Skip to content
Skip to navigation menu
Frontline Homegard Household Flea Spray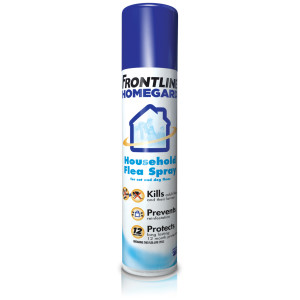 Product details
Help keep
If your pet is suffering from fleas, make sure they don't take hold in your home with this Frontline Homegard household flea spray.
Fleas on your pet are only 5% of the problem, the other 95% lies in the form of eggs, larvae and pupae within the home. When fleas breed on your pet their eggs will easily spread throughout your home, once they hatch they will cause an infestation which can be difficult to get rid of.
To speed up eradication of flea infestations use this spray throughout your home, car and other areas your pet visits. Use sparingly on wooden or glass surfaces and leave the treated area for 30 minutes or until the spray has dried.
How it works
With it's fast acting formula, FRONTLINE HomeGard helps you get on top of flea infestations, quickly killing fleas annd larvae in your home. It will also prevent flea eggs from hatching for up to 12 months. For complete protection against infesteations use in conjunction with a regular FRONTLINE flea and tick treatment for your pet.
Key benefits
kills both adult fleas and larvae
Safe on fabrics, carpet and upholstery
can provide up to 12 months of protection
Prevents returning infestations
Best used with a FRONTLINE flea treatment for your pet
your pet and your home free from fleas with Frontline HomeGard household flea spray.

What it's for

It's super easy to tell if your pet has fleas: just watch out for them scratching more and acting generally restless. To check if they're carrying pests, spread the fur behind their neck and under their arms. Fleas like to hide in warm places like this, so it's a good idea to look here carefully first to see if you can spot any.

Fleas don't just make your pet itch a lot, they can also lead to sore skin and infections. If you think your pet has fleas, speak to the vet for the best way to get rid of the pesky beasts and protect your cat or dog. Flea infestations in the home can be very hard to get rid of if they're left untreated. When you spot a flea, act fast and use Frontline HomeGard on beds and blankets.

Key benefits
can provide up to 12 months of protection
ideal for use with other flea treatments
kills both adult fleas and larvae
designed for use around the home
suitable for use on carpets, your pet's bedding, sofas and furniture
How it works
Frontline HomeGard can be used to kill pests and protect your home from fleas. It quickly kills adult fleas and larvae and protects your home for up to 12 months. Fleas don't just live on your four-legged friend, they can be thriving around your home too. These pests look for warm places that feel like your pet's fur. Soft furnishings, beds and sofas are all likely to house fleas, so treat your furniture too if your pet suffers an infestation.
Ingredients
Ingredients: Permethrin 5g/kg, S-methoprene 1g/kg.
Warnings
Do not apply Frontline HomeGard directly to animals. Ensure they are not in the room before use and until treated surfaces are dry.
Dosage
Spray the house with FRONTLINE HomeGard, treating one room at a time. Don't forget to spray other places where your pet goes, e.g. car, garage, etc.
Leave room for 30 minutes. Then, open doors and windows until areas are dry.
Vacuum a second time to eliminate fleas which were encouraged to emerge.
Continue to vacuum daily for 7-10 days.
Customer reviews
Product reviews are filtered by language.
The following reviews are available in English.
Front line house spray

Excellent stuff the only one that works and I think I've tried the lot

Flea spray

Great service and price. It doesn't smell too bad, that's a plus!

Frontline homeward spray.

Very good product. does the job well and reasonably priced at half price at the moment.Very strong spray.thank you

value for money

Bought for my granddaughter she tried lots of different ones but no joy she says this is great would highly recommends it

Excellent Purchase

I always like to have a can of flea exterminator in the cats cupboard. Although hoovering daily helps ,one cannot move all the furniture and get into those nooks and crannies that fleas like to live in ,every time one cleans . I use it on the bed to rid the bedding of dust mites ,in the cupboards and draws to make sure the moths do not make a meal of the clothes ,and the carpets of course ! I always close the windows ,make sure no pets or humans are in the vicinity ,close the door of the room about to be sprayed and it stays that way for two hours ,at least. works a treat, with 5 cats one cannot be too careful.