Skip to content
Skip to navigation menu
You have setup the following Repeat Order: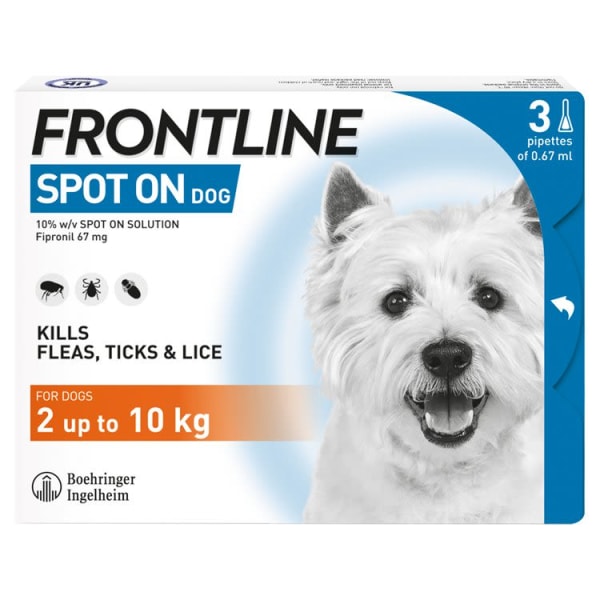 Frontline Spot On Flea & Tick Treatment for Small Dogs (2-10kg)
Frontline Spot On Flea & Tick Treatment for Small Dogs (2-10kg)
Frontline Spot On Flea & Tick Treatment for Small Dogs (2-10kg)
Back in stock notification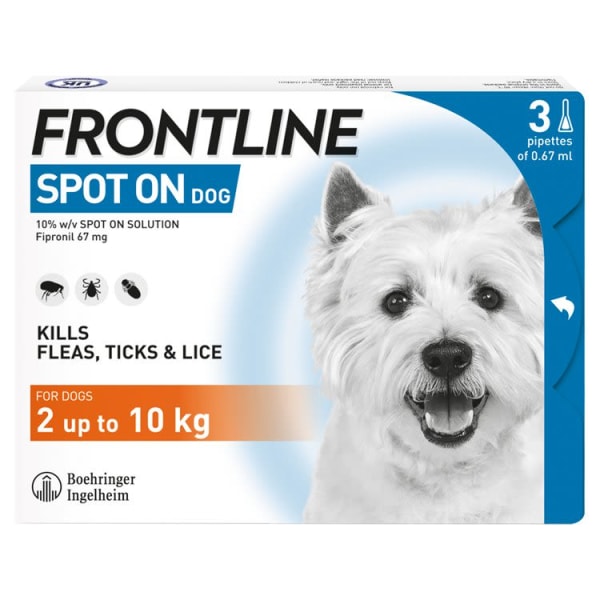 Frontline Spot On Flea & Tick Treatment for Small Dogs (2-10kg)
Frontline Spot On Flea & Tick Treatment for Small Dogs (2-10kg)
Enter your name and email address below then select which items you would like to be notified of when available.
Product details
Frontline Spot On for Dogs is effective against flea infestation for approximately two months and against tick infestation for up to one month, depending on the level of environmental challenge.
Within 24 hours of landing on your pet, fleas are killed and the treatment last for up to one month. Frontline Spot-On Dog can be used in puppies from 8 weeks of age and weighing over 2kg.
Key Benefits:
Elimination of fleas (Ctenocephalides spp.) and insecticidal efficacy against new infestations with adult fleas persists for 4 weeks.
Elimination of ticks (Ixodes ricinus, Dermacentor variabilis, Rhipicephalus sanguineus). The product has a persistent acaricidal efficacy for up to 2 weeks against ticks (based on experimental data).
Elimination of biting lice (Felicola subrostratus).
48 hours after application pets can swim or be bathed as normal.
Can also be used as part of a treatment strategy for the control of Flea Allergy Dermatitis (FAD).
Please click here for flea accessories

Please note: for deliveries to the Republic of Ireland, this product can be only supplied on a veterinary prescription.
Ingredients
This product contains:
Fipronil 10% w/v, Butylhydroxyanisole (E320) 0.02% w/v, Butylhydroxytoluene (E321) 0.01% w/v,Non-aqueous vehicle qs to 100%.
Warnings
Do not use on puppies less than 8 weeks old (and /or weighing less than 2kg) Do not use on animals that are unwell, are undergoing treatment for, or are recovering from illness.
Dosage
Administration:
Protect your dog from fleas by administering this treatment once a month. It is recommended that you also treat your home if your dog has had fleas. This will help to prevent a reinfestation.
Part the coat between the shoulder blades until the skin is visible. Place the tip of the spot-on pipette on the skin and squeeze gently to empty its contents onto the skin, preferably at two spots, one at the base of the skull and a second 2-3cm's further back.
Weight kg
1 pipette of ml
Frequency
2-10
0.67
Monthly
10-20
1.34
Monthly
20-40
2.68
Monthly
40-60
4.02
Monthly
For dogs over 60kg bodyweight, use two pipettes of 2.68ml.
Customer reviews
Product reviews are filtered by language.
The following reviews are available in English.
Yumove

Have been using Yumove for a good while now for our 2 older dogs.It certainly has improved their mobility.Would reccomend without hesitation.

Excellent service

Reasonable prices across the range. Fast delivery and a great repeat order system. Highly recommended.

Excellant product

We have been using Frontline Spot On for flea protection on our West Highland Terrier all her life...14 years. This is an excellent product, very easy to apply and it does the job. Never seen a flea on her despite her meeting and mixing with many other dogs and spending much of her walk time free to roam in woods and open countryside.