Skip to content
Skip to navigation menu
You have setup the following Repeat Order: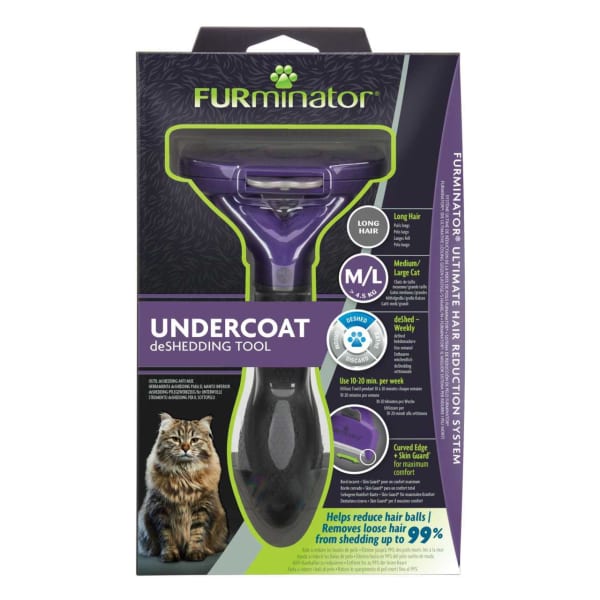 Furminator Kitten & Puppy Long Hair Deshedding Tool
Furminator Kitten & Puppy Long Hair Deshedding Tool
Furminator Kitten & Puppy Long Hair Deshedding Tool
Back in stock notification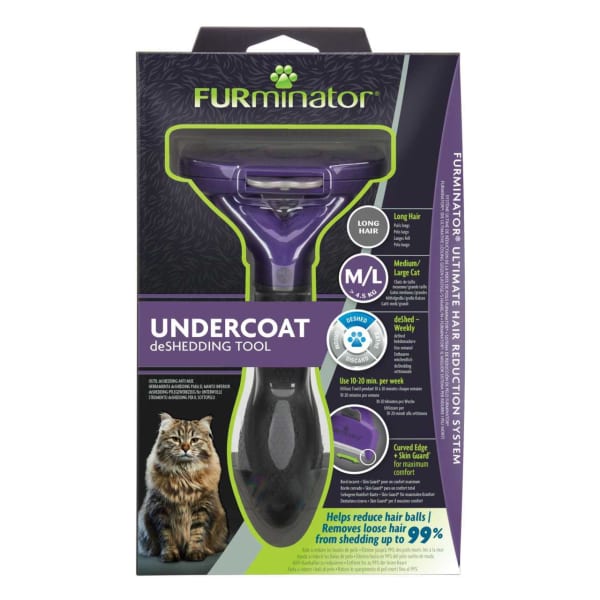 Furminator Kitten & Puppy Long Hair Deshedding Tool
Furminator Kitten & Puppy Long Hair Deshedding Tool
Enter your name and email address below then select which items you would like to be notified of when available.
Product details
The Safe Solution to Reduce Shedding and Hairballs Shedding is a problem most cats face and tends to be heaviest in early Spring and early Fall, but indoor cats often shed year-round. Up to 2/3 of the hair a cat sheds is ingested during self grooming, resulting in hairballs that are messy, stressful to the cat and the cause of potentially serious problems. Every loose hair brushed is one less to swallow. Precision Tool Selection Not all cats were created equal which makes FURminator® the best choice when it comes to deShedding solutions. Simply select the short hair or long hair edge tool matched to your cat's body size for a truly customized grooming experience. The design of the edge allows the tool to push through the topcoat to easily and gently remove the undercoat and loose hair without cutting or damaging the cat's delicate skin. For long hair cats over 10 lbs 2.65" deShedding edge designed for coats longer than 2 inches Effectively reduces hairballs, keeping your cat healthier and happier Recommended by veterinarians to help prevent dangerous hairballs from developing Reduces shedding up to 90% Stainless steel deShedding edge reaches deep beneath your cat's long topcoat to gently remove undercoat and loose hair FURejector® button cleans and removes loose hair from the tool with ease Guaranteed to reduce shedding better than any brush, rake or comb Designed by a groomer for professional results Patented technologies
Customer reviews
Product reviews are filtered by language.
The following reviews are available in English.
Great product

I have a Persian cat with very long fur, this product has proved to be excellent. It is actually quite scary how much fur it does take out which previously has ended up in her stomach! It means that I am not finding clumps of fur on the carpets every day, neither is she grooming as much. The first time I used it she was not very happy I suspect it felt different from her previous brushes but by the 3rd time she was fine. Probably the most useful item I have purchased for her.

This product was recommended by a friend for my Main Coons. This brush really pulls out the loose hair that causes matting, but beware of the amount of static that this generates - my girls were not very happy with the electric shocks that came with it, so make sure you hold it as close to the head of the brush whilst grooming to reduce the static.

I bought the furminator for long haired cats after spending 5 years trying my best to improve our rescue maine coon's coat. She has a very greasy coat that just seems to matt constantly compared to our other maine coons. The furminator is amazing. After 5 mins of grooming her coat started to feel v

I have a long haired cat, I was having trouble grooming him. This is great it gets out all the loose fur no more knots and he allways rolls over for his belly to be done. It was the answer to my problem. Fantastic worth every penny.

tried different types of combs and brushes for our main coon, but none of them came close to this product in reducing fur shedding. a bit costly but definitely well worth the buy. Note: do not expect miracles. lol! you'll still get the occasional fur on your clothes depending on how much your pet sheds and how often you use it.