Skip to content
Skip to navigation menu
Golden Grey Cat Litter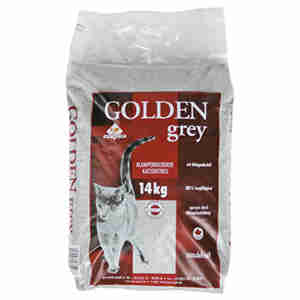 Rollover image to zoom
Product details
Ensure your cat's litter tray stays clean and free from bad smells with this highly absorbent Golden Grey cat litter.
How it works
Golden Grey cat litter has been designed to minimise lingering smells in your cat's litter tray. It absorbs liquid at a rate of 380%, effectively trapping moisture and odours and leaving the litter tray dry and clean. Its subtle baby powder scent can help mask strong smells, too, so it's suitable for use in small spaces. This litter is made from all-natural ingredients and contains a minimal amount of dust, so it's guaranteed to be harmless to your cat. It consists of fine bentonite granules too, which won't get stuck your cat's paws and trailed round the house.
Key benefits
litter clumps when moist
fine bentonite granules trap odours
gentle baby powder scent
380% absorbency
low in dust to protect sensitive lungs
When to use it
Cats need somewhere clean and dry to do their business. If you have a fussy indoor cat or you're training your kitten to use a tray for the first time, Golden Grey cat litter will help. Its high absorbency rate means moisture is quickly contained and odours are effectively trapped so cats will be happy to use their tray more than once.
Make sure you position your cat's litter tray in a quiet, private spot away from their food dishes. Fill it with around two inches of granules and encourage your cat to use it after mealtimes.
Clearing out your cat's litter tray isn't the best job in the world. Fortunately, this cat litter clumps, which reduces the need for regular emptying. When it's been used, simply lift out the clumps and top up with some fresh litter. You should wash out the tray thoroughly around once a week with warm soapy water.
Customer reviews
Product reviews are filtered by language.
The following reviews are available in English.
Cat litter

Clumps very well and doesn't leave dirty marks on the floor

Strongly Scented!

There is no mention of the fact that this product is strongly scented, which is a shame because artificial scent is a problem for some people, myself included. It's a shame because otherwise it's a great cat litter- clumps very well etc.

Love the litter - not the delivery

This litter is excellent, clumps well, smells nice, cats are happy with it so I''m happy with it. Unfortunately though, every bag I've ordered of this litter has arrived damaged, with bags split and part of the contents evident in the bottom of the delivery van. As I don't own any scales capable of weighing the nags I cannot determine how much was lost in transit, but I certainly never received 14kg in any of the bags I've ordered.

Best we've tried so far

Good clumping, much less dust than other litters and virtually no tracking.

Golden Grey Cat Litter

Best cat litter I've found for a long time. Less mess from the cat's paws than all the other products, as it just seems to cling to their paws with the other kind. Definitely recommend it.