Skip to content
Skip to navigation menu
You have setup the following Repeat Order: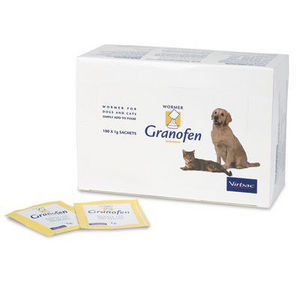 Granofen Worming Granules for Dog & Cats
Product details
Please be aware that this medicine can only be supplied for a maximum of one year treatment per animal.

***Important note: Granofen can only be sent within the United Kingdom***
A broad spectrum anthelmintic for the treatment of domestic dogs and cats infected with immature and mature stages of nematodes of the gastro-intestinal and respiratory tracts. Granofen also has an ovicidal effect on nematode eggs.

Adult dogs and cats: For the treatment of adult dogs and cats infected with gastro-intestinal nematodes and cestodes: Ascarid spp (Toxocara canis, Toxocara catis and Toxocara leonina), Ancylostoma spp, Trichuris spp, Uncinaria spp and Taenia spp.
Puppies and kittens: For the treatment of weaned puppies and kittens infected with gastro-intestinal nematodes.
Pregnant bitches: For the treatment of pregnant bitches to reduce prenatal infections of Toxocara canis and the transfer of T canis and A caninum to their pups via the milk. Also for the treatment of dogs infected with lungworm Oslerus (Filaroides) osleri, and cats infected with lungworm Aelurostrongylus abstrusus.
Routine treatment of dogs and cats:
Administer 1g Granofen Wormer for Dogs and Cats per 2.2kg(5lb) body weight as a single dose (100mg fenbendazole/kg bodyweight).
Practical dosage recommendations:

2.2 to 4.4kg (5-10lb) 2grams
4.5 to 8.8kg (10-20lb) 4grams
8.9 to 13.2kg (20-30lb) 6grams
13.3 to 22kg (30-50lb) 10grams
22.1 to 35.2kg (50-80lb) 16grams
35.3-50kg (80-110lb) 22grams

For dogs weighing over 50kg (110lb) an extra 1g is required for each additional 2.2kg bodyweight. The dose should be administered by mixing into the feed.


Customer reviews
Product reviews are filtered by language.
The following reviews are available in English.
Excellent product

I've got this from vet in the past at much more expensive price easy to use and avoids the hassle of trying to get tablets swallowed by my dogs

good value and service

This medication works for my dog an it is convenient to get it online from a reliable seller. Good value and good service. Thanks.