Skip to content
Skip to navigation menu
Greenies Dental Dog Chews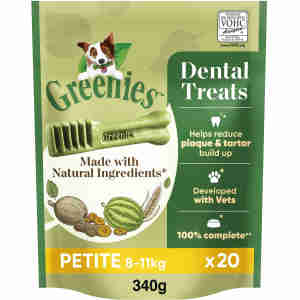 Rollover image to zoom
Product details
Help your best friend maintain healthy teeth with these Greenies dental dog chews.
How it works
Greenies dental chews can be enjoyed by dogs of all breeds and sizes. There are different packs for different pooches, so your pet can benefit from healthier teeth. These chews are made from natural ingredients, and have a taste your four-legged friend is sure to love.
As a result, they make a great choice for rewarding good behaviour, or reinforcing training routines. Because Greenies encourage chewing, they can also help to combat tartar and plaque build-up, and keep your dog's breath fresh. Excessive tartar build-up can lead to tooth decay and digestive problems if not treated.

Key benefits
easy to digest
great flavour your dog will love
special shape and texture encourage chewing
clinically proven to clean teeth
keeps breath fresh
reduces tartar and plaque build-up.
When to use it
Every dog loves a treat, and they're a great way to reinforce positive behaviour. If you're training them to fetch, or to simply stay off the sofa, using a treat helps your pet understand what you want them to do.
These Greenies are also very good for their teeth. Dental health is important for your four-legged friend, as lots of tartar on your dog's teeth can weaken and permanently damage them. It can also make its way into their digestive system, and cause infection and other problems. These snacks not only taste great, but also encourage chewing – which in turn helps to slow the build-up of tartar. The treats are also clinically proven to keep teeth clean.
Ask your vet for additional dental hygiene tips for your pal, especially if you're considering changing their diet.
Ingredients
Analytical constituents (%): Protein 30%, Fat content 5.3%, Inorganic matter 5.4%, Crude fibres 6.0%, Energy 307Kcal/100g. Composition: Cereals, Derivatives of vegetable origin, Vegetable protein extracts, Meat and animal derivatives, Fruit, Minerals, Seeds, Oils and fats, Yeasts.
Additives per KG: Nutritional Additives: Vitamin A (7150 IU/kg), Vitamin D3 (1780 IU/kg), Cupric Chelate of amino acids hydrate (80mg/kg), Ferrous Chelate of amino acids hydrate (261mg/kg), Manganese Chelate of amino acids hydrate (50mg/kg), Potassium Iodide (3.1mg/kg), Zinc Chelate of amino acids hydrate (1040mg/kg).
Warnings
As with any edible product, monitor your dog to ensure the treat is adequately chewed. Gulping any item can be harmful or even fatal to a dog.

We recommend dental inspection by your vet every six months together with an effective oral care routine, to help keep your dog's mouth healthy. Please alos update drop down menu with the number of sticks. It follows: large 170 4sticks petite 340 20chews

petite 170 10chews

regular 340 12 sticks

regular 170 6sticks

teenie 340 43sticks

teenie 170 22sticks
Customer reviews
We're sorry but there are no reviews of this product in English.