Skip to content
Skip to navigation menu
Harringtons Adult DogLamb & Rice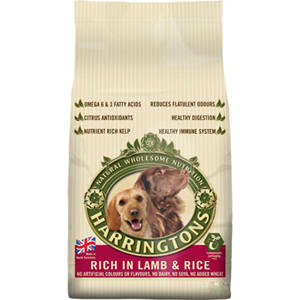 Product details
Harringtons Canine Complete Wholesome Dog Food
A wholesome, complete, dog food that can be fed to all dogs from 8 weeks onwards.

Made in North Yorkshire, Herriot country, Harringtons offers all the benefits of your typical expensive premium dog food, at a price that will make you smile and your dog's mouth water.

Drawing on four generations of relevant milling and pet food manufacturing experience, Harringtons has been developed to ensure your dog will eat only the highest quality food:

- No dairy, no soya and no added wheat.
- No artificial colours or flavours.
- Combines nutrient rich kelp, citrus antioxidants and omega 3 and 6 fatty acids.
- Added yeasts to help digestion.
It has been carefully formulated to provide Natural Wholesome Nutrition and contains no artificial colours or flavours, no wheat, no dairy and no soya.
Harringtons provides the conventional benefits associated with premium foods.
The primary ingredient is turkey, no beef or chicken meat meal.
Key Benefits
Omega 3 and 6 fatty acids for healthy skin and a glossy coat
Natural antioxidant from citrus
Contains nutrient rich kelp a natural source of vitamins, minerals and trace elements
With essential amino acids
Prebiotic FOS, to help maintain healthy digestion
Importantly, this product has no artificial colours or flavours, no wheat, no dairy and no soya. The ingredients are set out on the packaging of the product and are both clear and unambiguous: Harringtons is available in pioneering compostable packaging making for a healthier environment for future generations of dogs (and their owners of course!).
Harringtons Values
Harringtons is manufactured by a family owned and managed business.

With our history in manufacturing, we think we understand the importance of giving your dogs the best possible food, using quality ingredients, locally sourced wherever possible, and free from artificial colours and flavours.

With nine dogs belonging to the Directors and many more amongst our staff, we all have daily experiences of feeding a wide variety of dogs. We appreciate that certain dogs prefer diets without wheat for example.

We also recognise that you, our customers, have to make choices every day to manage the household budgets.
Pet foods can be a major component of that budget. In today's more constrained economic environment, difficult compromises may have to be faced if your pet is to continue to receive the same quality of premium pet food.

We have therefore focused on values that we hope get reflected in the production of Harringtons:

- No compromise on quality or ingredients used
- No wastage associated with 'big company' cost structures
- No expensive, unnecessary packaging – just compostable paper bags or recyclable plastic bags
- Good honest, Yorkshire value
Customer reviews
Product reviews are filtered by language.
The following reviews are available in English.
I tried this brand for the first time on my two 1year old Cocker Spaniels after reading the reviews and going by the very reasonable price After trying various other dog food brands, I can honestly say that this food has made a big difference. Their coats are the shiniest they have ever been, their breath is fresher and they appear to really enjoy it, completely finishing their bowls! I am now a convert. Thankyou to the Pet-Supermarket website, I have now discovered the perfect dog food!

The ingredients listed above say min 26% lamb meat meal, but on the packet it is only 14% lamb meat meal, with maize being the leading ingredient. Rice is also incorrectly stated - 20% above and 14% on the packet.

One of my elderly greyhounds has had terrible tummy trouble for a while now. Most foods go straight through him. I gradually changed his food to Harringtons, and he has been on it exclusively for a couple of months. He loves it (lamb and rice) and his stomach problems haven't been evident in all this time. The other dog loves it too, and it's easy for her to eat with few teeth. Good value too!

I adopted a rescue Staffie/Patterdale cross. She had a delicate tummy and loads of wind and constantly wanted to eat grass. I've bought many brands and kept a record to what helps her problem. This is one that she loves and being small pieces she eats slowly and her wind and grass eating problem has gone away. I dog-sit for my friends Patterdale/Lakeland cross and he is very picky eater, but he loves this as well.

We feed our 2 yr old staffie bitch and 2yr old choc lab with harringtons after trying many other foods, some much more expensive, They both love it and do very well on it, endless zest for life, and the low odour recipe is a real bonus as anyone with a staffie will understand, Recomended