Skip to content
Skip to navigation menu
Harrisons Wild Bird Food Sunflower Hearts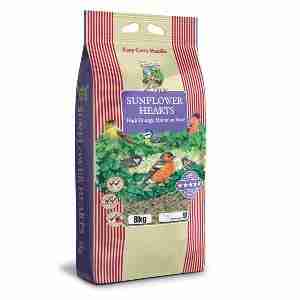 Harrison's wild bird food sunflower hearts is a nutritious treat for wild birds, encouraging them to pay a visit to your garden.

How it works
Sprinkle this seed mix on your bird table, use it to top up your hanging feeders or just scatter it on the ground to encourage more wild birds to visit your outdoor space. Garden birds enjoy eating sunflower hearts, and this seed mix is full of them. Sunflower hearts don't just taste great, they're also nutritious. They're naturally high in protein and rich in essential oils. This helps to give birds a big energy boost while keeping joints and feathers healthy. The mix is husk-free too, so there won't be many leftovers after your new visitors have eaten.

Key benefits
packed with high-protein sunflower hearts
tasty mixture designed to encourage a wide range of garden birds
can be sprinkled on the ground, on a bird table or used in a hanging feeder
enriched with essential oils to keep plumage and joints healthy
husk-free formula reduces waste and mess
When to use it
Putting food out for wild birds can encourage them to visit your garden, especially during the winter months when their natural food sources are scarce. This high-protein, high-energy food will give birds the energy and nutrition they need to survive through the cold season. During the warmer months, you can turn your outdoor space into a great spot for bird-watching, whether you've got a small allotment or a large lawn. Just put out a healthy mix of seeds on your bird table, in your hanging feeders or on the ground then wait for your flying visitors to drop in.
Customer reviews
Product reviews are filtered by language.
The following reviews are available in English.
Our birds go mad for these sunflower hearts, they love it. I have ordered several times from you and the price and free delivery cannot be beaten.

I would recommend this to everyone... no waste, birds eat it within minutes, very good/fresh quality, a little more expensive than normal sunflower seeds, but no empty shells to clean up. Excellent!

Moved house and hated leaving all birds new house had none - started feeding all Harrisons bird foods and no birds become hundreds all gorgeous all types - great food and reasonable - love it !!

Buying cheaper versions of sunflower seeds is a false economy. There is zero waste, unlike black sunflower seeds, where the birds leave husks everywhere. Very happy with Harrisons range.

Very popular with all the birds in our garden,finches,sparrows and the blackbirds pick up the bits the greedy chaffinches drop. very little mess and no waste at all.