Skip to content
Skip to navigation menu
Healthy Paws Adult Dog Food Natural Complete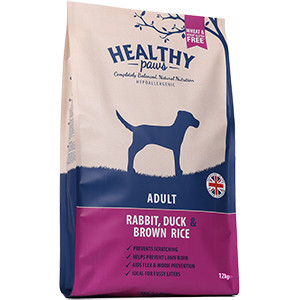 Product details
Healthy Paws produce delicious, 100% natural, nutritious, healthy dog food and treats.
Rabbit & Brown Rice is a nutritionally balanced complete dog food. Rabbit is a highly digestible source of good quality protein that is very nutritious.
Key benefits:
No preservatives, Additives, flavourings, salt, added sugar, chemicals or unnatural ingredients.
Wheat and gluten Free
Wholesome and nutritious.
Customer reviews
Product reviews are filtered by language.
The following reviews are available in English.
Heathly Paws Dry Dog food

I have been using Healthy paws dog food for years. Tried a other make last time when I couldn't get Healthy paws. There was far more dog waste then Healthy Paws, so the product was of poor quality. But after saying all this I am having trouble getting it now. And they have put chicken fat in far more then they used to. It is harder to get hold of now. Healthy paws disagree with me on this. And now is same price but weight is less 12 kg used to be 15 kg.But I am still using it. As my dog is fine on it as he has chicken up sets him. And most dog food has a lot of chicken. So I have to be careful what I buy.

High quality natural food great for skin problems

I have used Healthy Paws Adult Rabbit & Brown rice for several months now. I originally bought it for my white GSD who has had atopic dermatitis for several years. Since using this in combination with Viacutan oil internally and coconut oil externally I have seen a vast improvement in his skin. He has far fewer outbreaks, his skin, which used to be "elephantine" in places has improved and he produces much less scurf. His tail was almost like a rats at one point - he lost most of his lower tail hair after the vet did a skin scraping. The hair is now growing back, and the rest of his coat is much thicker and softer. He loves the taste and I also use it for my Golden Retriever as he loves it too. In his case I noticed that his "winter nose" has darkened since starting on this food. Highly recommended, and the price was the best available on the internet, with fast delivery.

A product comes along which promotes a healthy diet and lifestyle in dogs, and not an off the shelf derivative product, full of additives, to specifically make the food itself sit on the shelf longer.I help care for a 14 year old Labrador cross Springer. He has previous and existing health problems, most recently heart related. This food is 30p per day more expensive than his normal "off the shelf" food. I have witnessed a marked improvement in him, from start to finish, and I mean to finish! Kudos!

I have a 6 yr old collie cross who is a fussy eater and a 5 yr old labrador with a very sensitive tum. when i got the labrador every food we tried( which was a lot) made her ill then we were reccomended healthy paws and havn't looked back. They are both happy and healthy and i would not feed them anything else.

I have a 12 year old Westie, as a puppy he was very prone to skin allergy and always had a windy tum. i was introduced to healthy paws rabbit & Rice, 9 years ago.. he has never since had a problem is very healthy and still enjoys it.. i have also a min dachshund that is also on this, and again he has just won a healthy dog rosette! great product...