Skip to content
Skip to navigation menu
Hikari Tropical Cichlid Staple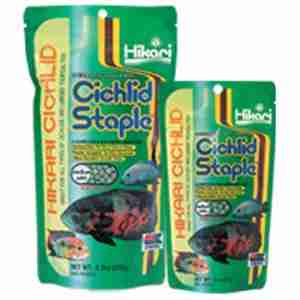 An economical daily diet for cichlids and larger tropical fish.
Provides proper nutrition to help your pet live a long and healthy life.
Offers excellent growth rates through improved digestion.
A floating pellet that will not dissolve or cloud your aquarium water.
High in stabilized vitamin C which promotes resistance to stress and immunity to infectious disease thereby allowing your pet their best chance at maintaining good health.
Our advanced production technology offers your pet premium quality ingredients they will eagerly accept.
SIZING/OTHER/FAQ
Other
The worlds most recognized premium aquatic diet.

Kyorin co., ltd. calls upon over eleven decades of ornamental fish-breeding experience to bring you the finest premium aquatic diets available today. Hikari is by far the most popular brand in Japan, a nation known for it's fine ornamental fish. Today throughout the world, hobbyists with the health of their pet their first priority, feed them Hikari.

Hikari's quality is a direct result of the many activities undertaken to understand fish, their eating habits and their dietary requirements. It all starts with exploration to study the actual habitats of tropical fish. This invaluable experience compliments intensive research by our Hikari Aquatic laboratory staff. Additionally, our world renowned Yamasaki Koi Farm allows us to use our diets first hand, ever noting the growth and coloration characteristics each one offers. We are also the largest shipper of live tropical and marine fish in all of Japan. So, as you can see, we are not producing diets for the sake of selling merchandise, but rather target the health and longevity of the fish. Focusing on bringing about success to the hobbyist through exacting nutrition has allowed us to develop a brand name synonymous with superior quality!