Skip to content
Skip to navigation menu
Hill's Prescription Diet Canine c/d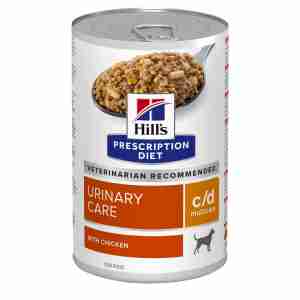 Rollover image to zoom
Prescription Diet C/D was formulated specifically to provide nutritional management of dogs with struvite-related urinary tract disease.


When your dog has a urinary condition, its even more important to feed the right food. Bladder stones also known as uroliths, are collections of mineral crystals that occur in a dog's urinary bladder. The most common type is composed of the mineral struvite, which has magnesium, ammonium and phosphate components.

The formation of bladder stones is related in part to changes in the acidity (pH value) of the urine. Stones grow in size over time and if untreated, they may cause irritation and/or partially or completely block the passage of urine.

There are several factors that influencing the likelihood of a dog developing bladder stones including Urinary Tract Infection, diet high levels of calcium, phosphorus and magnesium promote the formation of certain types of crystals. Certain breeds like the Miniture Schnauzer, Dalmation, Yorkshire Terrier and Bulldogs are more prone to develop particular types of bladder stones.

Hills Prescription Diet C/D controls mineral levels and is formulated to produce a urinary acidity that helps stop struvite stones reforming. Because Hills Prescription C/D provides complete and balanced nutrition, it can also be fed long term to maintain the health of adult dogs.

Key Benefits:
Magnesium Phosphorus Protein Reduced - Decreases urinary concentration of struvite constituents, magnesium, ammonium (from protein), phosphate.
Target urinary pH Acid: pH 6.2-6.4 - Discourages the formation and aggregation of struvite crystals.
Superior antioxidant formula - Added Reduces harmful free radicals to help combat urolithiasis.

Ingredients:
Beef, chicken, ground rice, ground maize, liver, soybean mill run, vegetable oil, calcium sulphate, potassium chloride, iodised salt, vitamins and trace elements.

Warning:
Not recommended for Cats, Puppies, Pregnant or lactating bitches, Dogs concurrently receiving urinary acidifiers, Dogs with non-struvite urolithiasis, hyperlipidaemia or pancreatitis (or a history of, or at risk of, pancreatitis).

By purchasing Hill's Prescription Diet Canine C/D, you confirm your pet has been examined by a vet who has recommended the use of this food on the basis of examination and diagnosis. You understand it is recommended while your pet is being fed Hill's Prescription Diet Canine C/D, you seek veterinary advice at least every 6 months regarding the usage of this food and the on-going care of your pet. Should your pet's condition deteriorate in any way while using Hill's Prescription Diet Canine C/D seek immediate veterinary advice.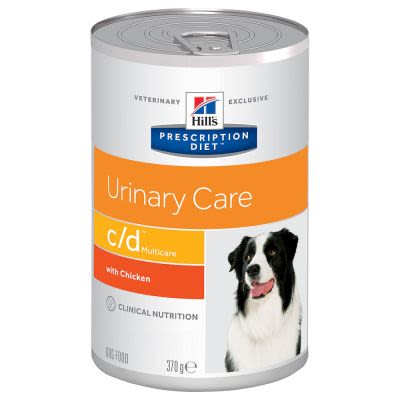 Customer reviews
Product reviews are filtered by language.
The following reviews are available in English.
Cured my pug/cross and she loves it

After spending a fortune on vets bills trying different products and having many urine samples tested, my vet suggested this and it worked. My dog has been using this for around 2 years and so far she's never had crystals again. I used to buy this from my vet but found this store online and I buy it here now. Great prices and service.

Supporting treatment for Pug

Food for our Pug who suffers from recurring Bladder Stones. So far so good.

Excellent service

Easy to order, helpful friendly staff, prompt delivery and cheaper than the vets

Vet prescribed we fed our Pug on this.

Our 6yr old Pug suffers from Struvite Crystal Stones. She has had to have them removed twic. We cannot risk her having such a Major op again so she has to have his diet. She seems to be tolerating it Ok so far so we are hoping that this works for her.

Hills Prescription c/d canine

my old eg ..15 year old dog was diagnosed with bladder stones after having her x.ray,so the vet put her on this food ..she cant have anything else to eat. she seems to be ok with it and is a lot better,,in herself,,..she also likes the dried food .. the delivery is excellent as well,,