Skip to content
Skip to navigation menu
Hill's Prescription Diet Canine h/d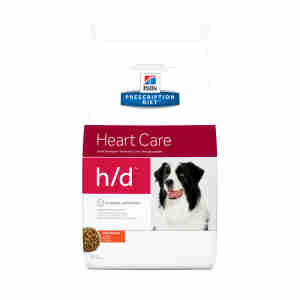 Rollover image to zoom

For the nutritional management of pets with heart disease.

Heart disease is a condition frequently found in ageing dogs. The most commonly seen heart diseases are due to a less efficiently working heart valve or heart muscle. This will lead to fluid retention and discomfort for your dog. Fluid retention is in response to a less efficient heart function and can be made more problematic with foods that are high in sodium. Other nutrients such as L-carnitine and taurine (particularly for the cat) are important for good functioning of the heart muscle.

Prescription Diet Canine H/D is formulated to help manage the symptoms of heart disease and related fluid retention.

Indications:
Heart disease and heart failure
Hypertension and fluid retention.

Key Benefits:
Sodium Chloride Reduced - Helps control clinical signs associated with sodium and fluid retention.
Potassium Magnesium Optimally Controlled - Supports patients receiving diuretic or ACE inhibitor therapy
Taurine L-Carnitine Supplemented - Helps maintain normal heart muscle function.
Protein Phosphorus Reduced - Helps slow progression of concurrent renal disease.
Superior antioxidant formula - Reduces harmful free radicals. Skin cells are particularly vulnerable to oxidative damage.
B-complex vitamins - Counters increased losses in patients receiving diuretics.
Superior antioxidant formula Added - Reduces harmful free radicals and supports cardiac function

Ingredients:
Chicken, ground maize, ground rice, liver, animal fat, sucrose, chicken digest, potassium citrate, calcium carbonate, potassium chloride, taurine, magnesium oxide, L-tryptophan, L-carnitine supplement, vitamins and trace elements.

Warning:
Not recommended for Cats, Puppies, Pregnant or lactating bitches, Dogs with sodium depletion (e.g. following severe vomiting or diarrhoea) and Dogs with hyperlipidaemia or pancreatitis, or with a history of, or at risk of, pancreatitis.

By purchasing Hill's Prescription Diet Canine H/D, you confirm your pet has been examined by a vet who has recommended the use of this food on the basis of examination and diagnosis. You understand it is recommended while your pet is being fed Hill's Prescription Diet Canine H/D, you seek veterinary advice at least every 6 months regarding the usage of this food and the on-going care of your pet. Should your pet's condition deteriorate in any way while using Hill's Prescription Diet Canine H/D seek immediate veterinary advice.
Customer reviews
Product reviews are filtered by language.
The following reviews are available in English.
My 11 year old Westie, Toby, was diagnosed with inflammatory bowel disease several years ago. It took a while to find a diet that he could tolerate and also enjoy. Hills diet proved to be `the one` and Toby has lived an active and healthy life as a result. I am reassured that he is receiving a highly nutritious diet that is easily digested, and that he enjoys with great enthusiasm! I find that feeding him smaller amounts 3-4 times a day is perfect for his digestion. I (and Toby!) would recommend this produc