Skip to content
Skip to navigation menu
Hill's Prescription Diet Canine r/d Mini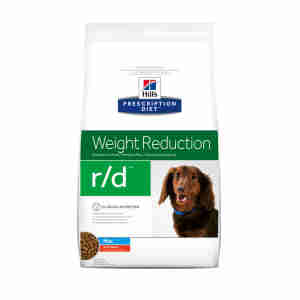 For the Nutritional Management of Obese or Overweight Dogs. Being overweight can cause your pet discomfort, reduce energy levels and even shorten their life. Just as in people, weight gain is usually associated with excessive calorie and fat intake combined with a lack of exercise. Obesity can lead to such serious conditions as heart disease, arthritis, and diabetes.

Hills Prescription Diet Canine R/D Mini was designed specifically for the management of dogs that are overweight or obese with small jaw structures. Its low fat, reduced calorie, high fibre formula helps dogs lose weight while helping them feel full. Hills Prescription Diet Canine R/D has the highest levels of L-carnitine of any therapeutic weight loss food to help burn fat while increasing lean muscle mass.

Indications:
Obesity
Fibre-responsive diseases in overweight dogs (i.e. diabetes mellitus, hyperlipidaemia, colitis or constipation)
Lymphangiectasia

Key Benefits:
Energy, Fat - Low - Stored body fat is used to meet energy needs, resulting in weight loss.
Fibre - High - Obesity: provides increased dietary bulk which aids satiety and avoids hunger.
Diabetes mellitus: helps minimise blood glucose fluctuation, which may reduce insulin dosage.
Colitis: modifies bowel transit time. Constipation: absorbs water and increases intestinal motility.
L-Carnitine - Supplemented - Increases conversion of fat to energy. Helps maintain lean body mass.
Superior antioxidant formula - Added - Reduces harmful free radicals, which are greater in obesity.

Ingredients:
Ground maize, ground peanut hulls (a source of fibre), chicken and turkey meal, soybean meal, maize gluten meal, digest, soybean hulls (a source of fibre), vegetable oil, cellulose, flaxseed, salt, L-carnitine supplement, potassium chloride, taurine, calcium carbonate, vitamins and trace elements. Contains EU approved antioxidant.

Warning:
Not recommended for cats, puppies, Pregnant or lactating bitches and Dogs that are debilitated or underweight dehydrated, in a hyper-metabolic state, or with moderate to advanced heart failure, renal failure or liver disease.

By purchasing Hill's Prescription Diet Canine R/D Mini, you confirm your pet has been examined by a vet who has recommended the use of this food on the basis of examination and diagnosis. You understand it is recommended while your pet is being fed Hill's Prescription Diet Canine R/D Mini, you seek veterinary advice at least every 6 months regarding the usage of this food and the on-going care of your pet. Should your pet's condition deteriorate in any way while using Hill's Prescription Diet Canine R/D Mini seek immediate veterinary advice.


Customer reviews
Product reviews are filtered by language.
The following reviews are available in English.
Hills RD

I have 10 year old Cavalier King Charles and she has lost 6kg over 8 months slow and steady so hope it stays off. She is like a different dog. Great product and good service

Pet Supermarket (Royal Camin Mini Adult and Hills Precription diet Canine RD Mini

Excellent Website having accurate and informative properties on high Quality and excellent value effectively delivered Products

Excellent product and excellent service

I've been a customer for many years. I have 2rescue Westies who have been put on Hills prescription diet as they are both prone to getting a bit overweight. They love the product and although they're now 10 and 11, they are fit and healthy. Thank you Medicanimal for many years of efficient and courteous service.

I have a 8 year old choc lab with hip and front and back legs problems, he has now lost 12kg on this great food, he is running round the garden now and not limping. he's a puppy again would recommend this to anyone with an over weight dog

my yellow labrador has been on this food now for a year due to my vets advise due to being very over weight and problem with his joints .this food has been a god send he has lost weight and in good health also has helped his joints amazing well worth the money