Skip to content
Skip to navigation menu
Hill's Prescription Diet Canine r/d Mini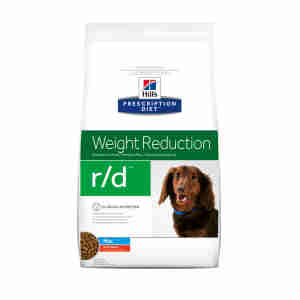 Rollover image to zoom
Product details
Hill's Prescription Diet Canine r/d Mini is a complete diet specially designed to help your small dog lose weight.
How it works
Hills Prescription Diet Canine R/D Mini was formulated specifically for the management of dogs that are overweight or obese with small jaw structures. Its low fat, reduced calorie, high fibre formula helps dogs lose weight while helping them feel full. Hills Prescription Diet Canine R/D has the highest levels of L-carnitine of any therapeutic weight loss food to help burn fat while increasing lean muscle mass.
Clinical studies show that dogs can lose up to 22% of their body fat in just eight weeks with this product. This therapeutic food has been formulated to deliver the quality nutrients that support your dog's health, and is clinically proven to help them to recover quickly. Ingredients include all the foods that are just right for dogs: chicken, pork, soybean, liver, turkey and essential fats, oils and minerals.
Key benefits
Low in calories and fat to help promote weight loss
Scientifically proven to reduce body fat by at least 22% in 8 weeks
Supplemented with L-carnitine and lysine to burn fat and preserve muscle
High in dietary fibre to help reduce hunger and discourage begging
New great taste your dog will enjoy
When to use it
If your small dog is under the weather and just not themselves, your vet may recommend a specialised diet to aid them in their recovery. Hill's Prescription Diet Canine r/d Mini is specially developed to help alleviate dogs' symptoms and clear up a range of health problems. Continue to consult with your vet during the process, and seek their advice on the duration of the treatment programme, as well as supplementary treatments in the future.
Because veterinary diets are formulated for the nutritional support of pets with specific clinical conditions, we recommend that you only use them under professional advice. For more information on feeding Hill's Prescription Diet Canine r/d Mini to your dog, please consult your veterinary surgeon.
Ingredients
Composition:
Ground maize, ground peanut hulls (a source of fibre), chicken and turkey meal, soybean meal, maize gluten meal, digest, soybean hulls (a source of fibre), vegetable oil, cellulose, flaxseed, salt, L-carnitine supplement, potassium chloride, taurine, calcium carbonate, vitamins and trace elements. Contains EU approved antioxidant.
Analytical constituents:
Protein 34.60%, Fat 9%, Fibre (crude) 13.1%.
Nutritional additives (per kg):
Carbohydrate (NFE) 37.30%, Calcium 0.87%, Phosphorus 0.66%, Sodium 0.30%, Potassium 0.87%, Magnesium 0.12%, Omega-3 fatty acids 0.17%, Omega-6 fatty acids 2.88%, L-Carnitine 353mg/kg, Vitamin A 11603IU/kg, Vitamin D 462IU/kg, Vitamin E 652mg/kg, Vitamin C 76mg/kg, Beta-carotene 1.60mg/kg.
Feeding Guide
Recommended quantity/day:
Dog`s Weight (kg)
Dry food (grams)
Loss weight
Other indications
2
40
50 - 70
3
55
70 - 100
4
65
90 - 120
5
80
105 - 145
10
130
175 - 240
15
170
230 - 320
20
220
295 - 405
20
220
295 - 405
20
220
295 - 405
30
295
400 - 550
40
370
495 - 685
50
435
595 - 810
Always make sure that your dog has access to plenty of water.
Customer reviews
Product reviews are filtered by language.
The following reviews are available in English.
Weight loss dog food

Our dogs really like this food. Best I have tried ...

Hills RD

I have 10 year old Cavalier King Charles and she has lost 6kg over 8 months slow and steady so hope it stays off. She is like a different dog. Great product and good service

Pet Supermarket (Royal Camin Mini Adult and Hills Precription diet Canine RD Mini

Excellent Website having accurate and informative properties on high Quality and excellent value effectively delivered Products

Excellent product and excellent service

I've been a customer for many years. I have 2rescue Westies who have been put on Hills prescription diet as they are both prone to getting a bit overweight. They love the product and although they're now 10 and 11, they are fit and healthy. Thank you Medicanimal for many years of efficient and courteous service.

I have a 8 year old choc lab with hip and front and back legs problems, he has now lost 12kg on this great food, he is running round the garden now and not limping. he's a puppy again would recommend this to anyone with an over weight dog