Skip to content
Skip to navigation menu
Add to an existing Repeat Order
Add to an existing Repeat Order
Licensed item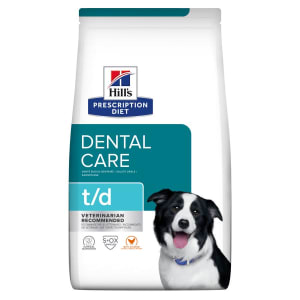 Hill's Prescription Diet Canine t/d
This is a licensed item so for regulatory reasons and to ensure we are providing the best product for the health of your pet, we need to ask you to confirm a few details.
Please confirm the type of animal you will be giving this licensed product to:
I am aware of the relevant safety precautions relating to the licensed products.
I will read the packaging and product literature before using any licensed products, and will use all licensed products according to the manufacturer's datasheet
I am not buying for resale and I am happy to be contacted if required
I confirm that the animal the licensed products will be given to is in general good health
I confirm that the animal the licensed products will be given to is NOT pregnant or lactating
Add to an existing Repeat Order
Licensed item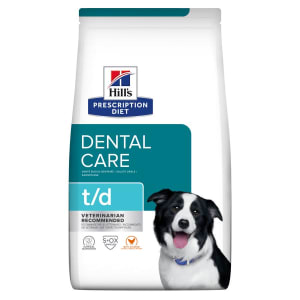 Hill's Prescription Diet Canine t/d
This is a licensed item so for regulatory reasons and to ensure we are providing the best product for the health of your pet, please read and confirm the details below:
By purchasing this product, you confirm your pet has been examined by a vet who has recommended the use of this food on the basis of examination and diagnosis.
You understand it is recommended while your pet is being fed this product, you seek veterinary advice at least every 12 months regarding the usage of this food and the on-going care of your pet.
Should your pet's condition deteriorate in any way while using this product, seek immediate veterinary advice.
Add to an existing Repeat Order
You are adding: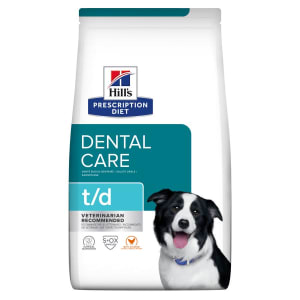 Hill's Prescription Diet Canine t/d
To the following repeat order:
Next order due on:


Delivered every
text.account.new.upcoming.orders.payment.brand.
Add to an existing Repeat Order
Thank you, we have updated your order. Your order is due on
You're setting up the following repeat order: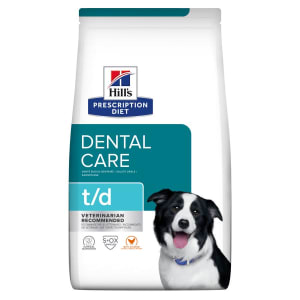 Hill's Prescription Diet Canine t/d
Product details
Hill's Prescription Diet Canine t/d is specially blended to support your dog's dental health while also delivering complete and balanced nutrition.
How it works
While this food also provides everything your dog needs for a healthy diet, it also helps maintain your pet's dental health. The unique kibble shape and size means that as your dog eats, the food works to clean their teeth and comb. The carefully selected ingredients include calcium, which is essential for the strength and health of your pet's teeth. The food is high in essential minerals, vitamins E and C, and proteins. This mix offers an above average level of nutrients as a result, meaning it supports your dog's overall health. It is also fortified with antioxidants to fight against free radicals, which can otherwise lead to further diseases, including of the kidney and the immune system. The taste is also something your dog is sure to enjoy, making it easy to add it into their feeding routine.
Key benefits
special kibble design cleans your dog's teeth as they eat
reduces and combats plaque build-up
high in nutrients essential for a healthy diet
promotes your dog's health
great taste that your dog will love
high in calcium for teeth and bone strength.
When to use it
Your dog's teeth and gums need as much care as ours do. If your dog's dental health is bad, they are likely to suffer from minor concerns such as bad breath, tartar, swollen gums and even pain. While these problems are reason enough to maintain your pet's dental health, there are also a number of more serious conditions that can develop. It is generally accepted that bad oral hygiene, especially the build of plaque and tartar, can start to affect your dog's organs as well. The kidneys, heart, and even metabolic systems can all suffer detrimental effects. Tartar and plaque are, after all, concentrations of bacteria, which increase health risks the longer they are allowed to build-up.
Because veterinary diets are formulated for the nutritional support of pets with specific clinical conditions, we recommend that you only use them under professional advice. For more information on feeding Hill's Prescription Diet Canine t/d to your dog, please consult your veterinary surgeon.
Ingredients
Composition:
Ground maize, ground rice, chicken and turkey meal, cellulose powder, animal fat, pea bran meal, digest, dried whole egg, vegetable oil, potassium citrate, calcium sulphate, salt, calcium carbonate, taurine, L-tryptophan, vitamins and trace elements. Contains EU approved antioxidant.
Analytical constituents:
Fat 14.4%, fibre (crude) 9.3%, moisture 8%, protein 16.2%.
Nutritional additives (per kg):
Vitamin A 9434 IU, vitamin C 90 mg, vitamin D 756 IU, vitamin E 600 mg, beta-carotene 1.5 mg, calcium 0.56%, carbohydrate 48.3%, magnesium 0.07%, Omega 3- fatty acids 0.25%, Omega 6- fatty acids 2.95%, phosphorus 0.38%, potassium 0.62%, sodium 0.2%, taurine 1137 mg.
Feeding Guide
Recommended quantity/day:
| Dog`s Weight (kg) | Dry food (grams) |
| --- | --- |
| 2.5 | 55 -75 |
| 5 | 90 - 125 |
| 7 | 115 - 160 |
| 10 | 150 - 210 |
| 20 | 255 - 355 |
| 30 | 345 - 480 |
| 40 | 430 - 595 |
| 50 | 510 - 700 |
| 60+ | 11 per kg |
Always make sure that your dog has access to plenty of water.
Customer reviews
Product reviews are filtered by language.
The following reviews are available in English.
Great product

Hills t/d dental care was recommended by my vet for my six year old collie. I've reduced the quantity of Bobs normal food by two thirds and then I give him a big handful of Hills t/d as a treat at the end of his meal. He won't touch any of the usual dental sticks but he loves these crunchy nuggets. His teeth are looking good and I've noticed that his poo is more bulky and less soft. Medicanimal charge less than the vet and delivery is fast and reliable.

Toosie pegs

This product was recommended by vets following my dogs op for removal of two teeth and cleaning of his remaining teeth. Was advised to use it as treats rather than for his meals as it's quite calorific. He enjoys it and it obviously takes more effort chomping it. Purchased from medicanimal who always deliver fairly quickly. I have ordered through medicanimal for many years. Very happy with them.

TD dental

Excellent service as usual delivered very quickly

Happy Dog

Very happy with these biscuits and the dog loves them. Her teeth are remarkably clean for a 13 year old so I think the biscuits have made a difference. They also made a difference to the frequency with which she needed her anal glands to be evacuated - probably only half as often now.

TD Biscuits - Quality Items.

Helps with keeping the dogs teeth and gums plaque free. Good quality biscuits and value for money.