Skip to content
Skip to navigation menu
Add to an existing Repeat Order
Add to an existing Repeat Order
Licensed item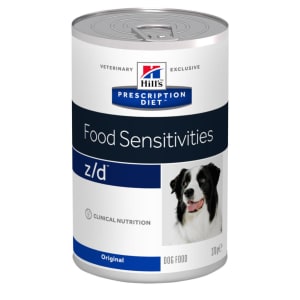 Hill's Prescription Diet Canine z/d
This is a licensed item so for regulatory reasons and to ensure we are providing the best product for the health of your pet, we need to ask you to confirm a few details.
Please confirm the type of animal you will be giving this licensed product to:
I am aware of the relevant safety precautions relating to the licensed products.
I will read the packaging and product literature before using any licensed products, and will use all licensed products according to the manufacturer's datasheet
I am not buying for resale and I am happy to be contacted if required
I confirm that the animal the licensed products will be given to is in general good health
I confirm that the animal the licensed products will be given to is NOT pregnant or lactating
Add to an existing Repeat Order
Licensed item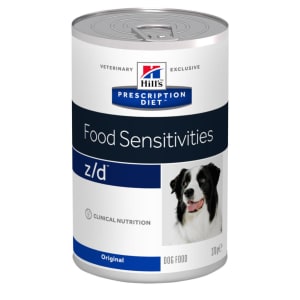 Hill's Prescription Diet Canine z/d
This is a licensed item so for regulatory reasons and to ensure we are providing the best product for the health of your pet, please read and confirm the details below:
By purchasing this product, you confirm your pet has been examined by a vet who has recommended the use of this food on the basis of examination and diagnosis.
You understand it is recommended while your pet is being fed this product, you seek veterinary advice at least every 12 months regarding the usage of this food and the on-going care of your pet.
Should your pet's condition deteriorate in any way while using this product, seek immediate veterinary advice.
Add to an existing Repeat Order
You are adding: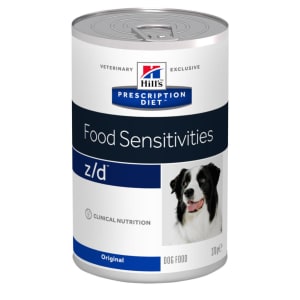 Hill's Prescription Diet Canine z/d
To the following repeat order:
Next order due on:


Delivered every
text.account.new.upcoming.orders.payment.brand.
Add to an existing Repeat Order
Thank you, we have updated your order. Your order is due on
You're setting up the following repeat order: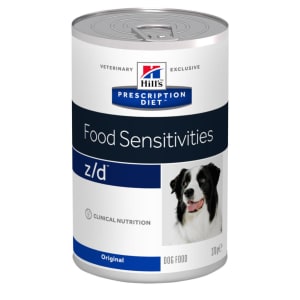 Hill's Prescription Diet Canine z/d
Product details
Hill's Prescription Diet Canine z/d is a hypoallergenic dog food that's designed specifically for pets with food intolerances.

How it works
Hill's Prescription Diet Canine z/d is a complete dry dog food mix that helps to limit your pet's contact with ingredients that could be causing their intolerance. It's an effective way to control your pet's allergies.
The mix uses protein in the form of hydrolysed chicken pieces. Hydrolysed protein is broken down into small pieces, making it harder for your pet's immune system to detect. Your pup can also digest smaller pieces more easily, meaning they can get the most nutrients out of every bite of food.
This dry mix contains naturally occurring antioxidants that help to keep your pet fit by fighting off free radicals. This is especially important when their immune system is low due to an intolerance. Diet Canine z/d is also rich in fatty acids to keep your pet's coat and skin in good condition.

Key benefits
natural ingredients cut contact with likely culprits of allergy
complete hypoallergenic dry food
fatty acids restore the condition of their skin and coat
hydrolysed protein that's not detected by your dog's immune system
antioxidants keep their immune system fighting fit.
When to use it
If you think your dog might have a food intolerance, there are a few common symptoms that you can look out for: they might become lethargic, vomit or have diarrhoea. If you notice these changes in behaviour, take them to the vet as soon as possible for a diagnosis and treatment.
You can exchange your pet's regular daily food to Hill's Prescription for life. Before switching, give them Canine Diet z/d for a trial period of up to eight weeks. If they're still showing signs of intolerance, take them back to the vet.
Ingredients
Ingredients: Maize starch, chicken liver hydrolysate, cellulose, minerals, vegetable oil, animal fat, vitamins, DL-methionine,trace elements, L-tryptophan, taurine, beta carotene. Contains EU approved antioxidant
Additives per kg: Nutritional additives: E671 (Vitamin D3) 2,050IU, E1 (Iron) 367mg, E2 (Iodine) 9.7mg, E4 (Copper) 46.6mg, E5 (Manganese) 16.1mg, E6 (Zinc) 234mg, with natural antioxidant.
Feeding Guide
Recommended quantity/day:
| Dog`s Weight (kg) | Dry food (grams) | Cans (370 grams) |
| --- | --- | --- |
| 2 | 45 - 60 | 1 /2 - 3/4 |
| 3 | 60 - 80 | 2/3 - 3/4 |
| 4 | 75 - 100 | 3/4 - 1 |
| 5 | 85 - 120 | 1 - 1 1/4 |
| 10 | 145 - 200 | 1 1/2 - 2 |
| 20 | 245 - 340 | 2 1/2 - 3 1/2 |
| 30 | 335 - 460 | 3 1/2 - 4 3/4 |
| 40 | 415 - 570 | 4 1/4 - 6 |
| 50 | 490 - 675 | 5 - 7 |
| 60+ | 10 per kg | 1 per 10 kg |
Always make sure that your dog has access to plenty of water.
Customer reviews
Product reviews are filtered by language.
The following reviews are available in English.
Saved the day

Zara rescue from Cyprus has inflammatory bowel disease.nightmare as so many additives in some dog foods you have to go hypoallergenic to treat this condition.Thank goodness pet supermarket offered best price with hills z/d.this is a condition for the whole of this dogs life.so glad got the best food and price all in one

Addisons Diisease

After Sky was diagnosed with Addisons, checked what advised to change diet and recommended Hills ZD low Allergen Sky has now been on this diet since 2012 and it keeps to body balance in check, we split into 4 feedings daily Price and delivery no issues with

Excellent Food

My 9 year old dog has been exclusively on this food for about six weeks - on the vets advice. He has suffered from chronic colitis for most of his life. For the first time in years he is now off all medication and no sign of colitis.

Great service

Got this as a last resort for my dog who had had an upset stomach for months and nothing else the vet suggested worked, allergy tests revealed allergies to so many things that are in all other dog food either wet or dry and we had no option. Fortunately my dog loves the dry food, she almost inhales the bowl! She is beginning to put back all the lost weight too. Very happy with the service too.

Happy Chappie

Excellent system for reordering dog food. Prompt delivery which was well packaged.