Skip to content
Skip to navigation menu
Hill's Prescription Diet Feline L/D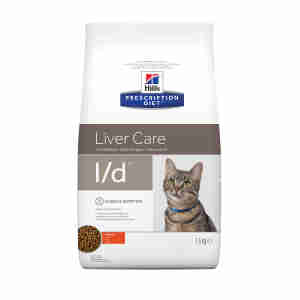 Rollover image to zoom
Product details
Hills Prescription Diet Feline L/D for the Nutritional Management of Pets with Liver Disorders.


Liver disorders are often serious conditions frequently accompanied by many uncomfortable and even painful symptoms for your cat.

Prescription Diet L/D was created specifically for the nutritional management cats with liver disorders that cause reduced liver function. Because the liver works to rid the body of toxins, it can be subjected to damage and reduced function from infections and ingested poisons as well as altered blood flow.

Indications:
Liver disease.
Hepatic encephalopathy.
Hepatic lipidosis.

Key Benfits:
Protein - High digestible & reduced - Reduces workload on liver.
Branched-chain amino acids - Increased - Reduces accumulation of ammonia and consequent CNS signs (hepatic encephalopathy).
Aromatic amino acids - Balanced - Helps healing and regeneration of liver tissue.
Vitamin K Zinc - Increased Avoids deficiencies common in liver disease.
L-Carnitine - Supplemented - Helps improve fat metabolism to limit hepatic lipidosis.
Sodium - Reduced - Limits portal hypertension and ascites.
Soluble fibre - Supplemented - Decreases ammonia reabsorption (and ammonia generation) in the bowel.
Potassium - Increased - Avoids hypokalaemia which can trigger CNS signs.
Copper - Reduced - Avoids copper accumulation in the liver.
Arginine - Increased - Helps maintain urea cycle, avoiding accumulation of ammonia.
Superior antioxidant formula - Added - Reduces harmful free radicals which correlates with severity of liver disease.

Ingredients:
Beef, rice flour, pasta, maize gluten meal, vegetable oil, soybean meal, dried whole egg, Fibrim® 1260, chicken digest, menhaden oil, dicalcium phosphate, animal fat, cellulose, potassium chloride, calcium sulphate, calcium carbonate, taurine, edible gums, L-arginine, L-lysine hydrochloride, iodised salt, DL-methionine, L-carnitine supplement, vitamins and trace elements

Warning:
Not recommended for Long term feeding of kittens, Pregnant or lactating queens or Cats with hyperlipidaemia.

By purchasing Hill's Prescription Diet Feline L/D, you confirm your pet has been examined by a vet who has recommended the use of this food on the basis of examination and diagnosis. You understand it is recommended while your pet is being fed Hill's Prescription Diet Feline L/D, you seek veterinary advice at least every 6 months regarding the usage of this food and the on-going care of your pet. Should your pet's condition deteriorate in any way while using Hill's Prescription Diet Feline L/D seek immediate veterinary advice.


Customer reviews
Product reviews are filtered by language.
The following reviews are available in English.
Great product, price & service

I have recently recommended Pet Supermarket to my Mum as she was paying through the roof at the vets for food.

Good dry food

Have been giving this to my cat for last 6 years since diagnosed with liver disorder. Cat eats it well even though has other cats biscuits in next dish. Good product to manage liver disorders and good price too. Recommend hills l/d dry also medicalanimal for great service.

Hills feline ld

Excellent food for those cats with liver problems. Having a total of three cats I needed something for all of them to eat as its impossible to individually feed one cat. One older cat was getting thinner but has a new lease of life since being on this food. All three love it !

Unbeatable quality

I was recommended this brand of cat food by my good vet as my now 13-year-old furry one has liver problems and UTI. This was a year ago and she's not gotten bored of it yet! She really goes for it with gusto, so she totally loves the flavour it seems. I couldn't be happier with this product as it keeps my baby happy and well (as well as can be at any rate. The velcro seal is a nice touch too - very thoughtful addition to an already well-engineered pet product.

Hills feline ld

Dry food for felines with liver disease