Skip to content
Skip to navigation menu
Hill's Prescription Diet Feline j/d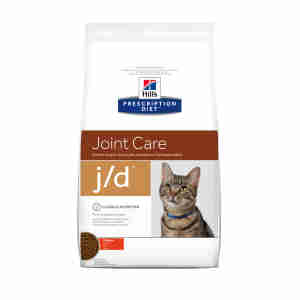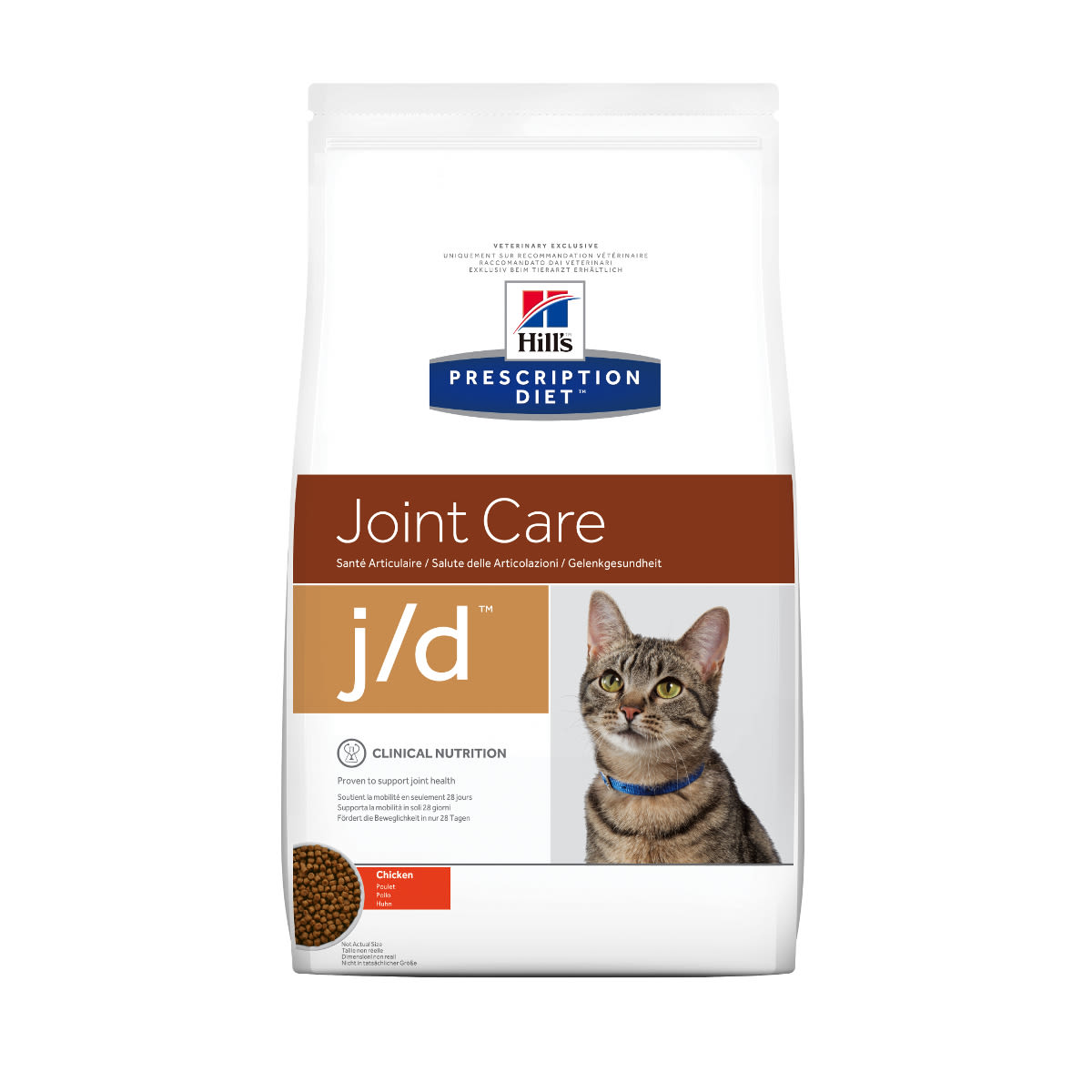 Hill's Prescription Diet Feline J/D is clinically proven to improve mobility in 30 days with a balance of healthy nutrients and a special Omega-3 oil.


Joint related problems in cats are very common. Cartilage in the joints may wear away faster than it can be replaced and cause discomfort to your cat. If your cat has joint problems you will notice that he may find movement difficult and is reluctant to walk, run and jump. He may also flinch or yelp when touched in the affected area.

Joint problems can occur when cartilage is worn away faster then it can be replaced. Cartilage acts as a cushion to protect the bones, so when it wears away, joints become swollen and painful causing mobility to be impaired. These changes in the joint are not totally curable, the good news is that with the right nutrition can help ease aching joints and preserve healthy cartilage, thats why Hills made Hills Prescription Diet J/D.

Helps your cat walk, run and play better by soothing aching joints and preserving healthy cartilage. Helps maintain joint cartilage thanks to EPA, a special omega-3 fatty acid from fish oil and glucosamine and chondroitin sulphate from natural sources.
Key Benefits:
Omega-3 fatty acids -Soothes inflamed tissues and eases aching joints.
Ratio of Omega-6 to Omega-3 fatty acids - Low (less than 1) - Soothes inflamed tissues and eases aching joints.
Eicosapentaenoic acid (EPA) - High - Preserves healthy cartilage by an action that is specific to EPA.
Glucosamine hydrochloride - Chondroitin sulphate - From natural sources, provides components to maintain healthy joint cartilage.
L-Carnitine - Increased - Limits stress on joints by increasing conversion of fat to energy, avoiding weight gain and maintaining lean muscle mass.
Protein Calcium Phosphorus Sodium - Provides an ideal balance for good health. Avoids excessive intake which may contribute to ill health.
Superior antioxidant formula - Added - Helps neutralise harmful free radicals in the joints.

Ingredients:
Minced with Chicken (minimum 7%): Pork liver, pork, chicken, maize starch, dried whey, cellulose, digest, wheat flour, animal fat, fish oil, vegetable oil, soy fibre, maize gluten meal, calcium carbonate, rice flour, chicken cartilage (source of glucosamine and chondroitin sulphate), dried yeast, iodised salt, L-lysine hydrochloride, L-cysteine, potassium chloride, DL-methionine, taurine, L-carnitine supplement, vitamins and trace elements.

Warning:
Not recommended for kittens, or pregnant or lactating bitches.

By purchasing Hill's Prescription Diet Feline J/D, you confirm your pet has been examined by a vet who has recommended the use of this food on the basis of examination and diagnosis. You understand it is recommended while your pet is being fed Hill's Prescription Diet Feline J/D, you seek veterinary advice at least every 6 months regarding the usage of this food and the on-going care of your pet. Should your pet's condition deteriorate in any way while using Hill's Prescription Diet Feline J/D seek immediate veterinary advice.


Customer reviews
Product reviews are filtered by language.
The following reviews are available in English.
Hills jd

The cat really likes these but turns her nose up at other brands which claim to be good for joint problems. They seem to help with her mobility.

Vet's recpmmendation

As recommended by our vet, we have been feeding our ageing cat this Hills Prescription Diet D/J for some years and she has continued to enjoy good health.

Great product

My cat has been in this food for some years and it has really helped her.

Hills prescription diet j/d

Our vet recommended using j/d. After a while on it we were able to take the cat off medication, he moved so much easier. Years later he has had to go back onto medication but the years medication free will have been good for his health.

Amazing results

Our vet recommended we give this product to our two 16yr old Tonkinese cats. The improvement in their mobility has be amazing and they leap about again, if not like kittens, then not as arthritically as previously.