Skip to content
Skip to navigation menu
Hill's Prescription Diet Feline r/d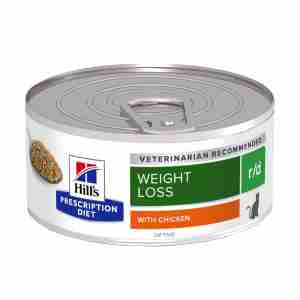 Product details
Hills Prescription Diet Feline R/D for the Nutritional Management of Overweight Cats.


A weight problem can cause your cat discomfort, reduce energy levels and even decrease his or her life expectancy. This problem is typically caused by too many calories, too much fat and not enough exercise.

Hills Prescription Diet Feline R/D was created especially for the management of cats that are overweight or obese which can lead to heart disease, arthritis, and diabetes. Hills Prescription Diet Feline R/D is a low calorie, high fibre nutritional therapy with the highest levels of L-carnitine to effectively reduce weight and increase lean muscle mass while helping cats feel full.

Indications:
Obesity.Fiber-responsive diseases in overweight cats (i.e. diabetes mellitus, hyperlipidaemia, colitis or constipation).

Key Benefits:
Energy, Fat - Low - Stored body fat is used to meet energy needs, resulting in weight loss.
Fibre - High - Obesity: provides increased dietary bulk which aids satiety and avoids hunger.Diabetes mellitus: helps minimise blood glucose fluctuation, which may reduce insulin dosage. Colitis: modifies bowel transit time. Constipation: absorbs water and increases intestinal motility.
L-Carnitine - Supplemented - Increases conversion of fat to energy. Helps maintain lean body mass.
Superior antioxidant formula - Added - Reduces harmful free radicals, which are greater in obesity.

Ingredients:
Ground maize, chicken and turkey meal, cellulose, maize gluten meal, digest, vegetable oil, potassium chloride, calcium sulphate, L-carnitine supplement, salt, taurine, vitamins and trace elements. Contains EU approved antioxidant.

Warning:
Not recommended for Kittens, Pregnant or lactating queens, Cats concurrently receiving urinary acidifiers or Cats that are debilitated or underweight, dehydrated, in a hypermetabolic state, or with moderate to advanced heart failure, renal failure or liver disease.

By purchasing Hill's Prescription Diet Feline R/D, you confirm your pet has been examined by a vet who has recommended the use of this food on the basis of examination and diagnosis. You understand it is recommended while your pet is being fed Hill's Prescription Diet Feline R/D, you seek veterinary advice at least every 6 months regarding the usage of this food and the on-going care of your pet. Should your pet's condition deteriorate in any way while using Hill's Prescription Diet Feline R/D seek immediate veterinary advice.


Customer reviews
Product reviews are filtered by language.
The following reviews are available in English.
Hills r/d

Easy website to use, great value and delivered to your door in two days. Excellent.

Hills rd dry feline

Excellent product. My cats enjoy this and it helps maintain their weight.

Slimline for Summer - Happy Cat!

The R/D diet really does work! My cat was 5.6 kg and diagnosed as morbidly obese before switching cat food!

Excellent Products Excellent Service

The products ordered were delivered separately as advised, on time and in perfect condition. What more can you ask for at bargain prices!

Consistently good flavour for helpful weight control

Valuable help for obese cats, this food helped Pie lose 2kg steadily at a controlled pace over a 12 month period. We keep him on this to prevent gain. Always consult your vet before purchasing. Ours recommends this food