Skip to content
Skip to navigation menu
Hill's Prescription Diet Feline y/d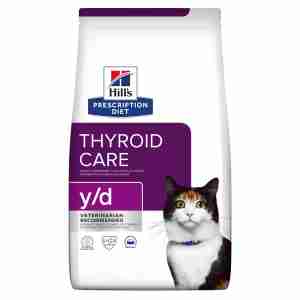 Rollover image to zoom
Product details
Prescription Diet y/d is the safe, effective and easy way tomaintain thyroid health.
KeyBenefits
Easy.Effective. Safe.
Clinically proven nutrition to help support thyroid health
Complete daily nutrition with a taste your cat will love

AdditionalInfo
Additionalbenefits for overall health
Supports kidney health with controlled phosphorus and low sodium
Helps maintain bladder health with controlled mineral levels
Promotes heart health with essential nutrients like taurine and carnitine
Promotes healthy skin and a luxurious hair coat with high levels of omega-3 and-6 fatty acids

IMPORTANT
Because iodine intake from other food sources -- treats, another pet's food,etc. -- can compromise the effectiveness of restricted-iodine nutrition, it'scritical that you follow your veterinarian's feeding instructions carefully andfeed only y/d.

By purchasing Hill's Prescription Diet y/d, you agree your pet has been examined by a vet who has recommended the use of the product on the basis of examination and diagnosis.
It is recommended that when you begin feeding y/d, you seek veterinary advice for a re-check examination at 4 weeks, 8 weeks and 12 weeks* after your cat is completely transitioned to the product and thereafter every 6 months, regarding the usage of Hill's Prescription Diet y/d and on-going care of your cat.
*Re-checks are at the discretion of your recommending vet; it is recommended that cats with compromised kidney function should be seen more frequently. Concurrent use of the medications Felimazole® or Vidalta® when feeding Hill's Prescription Diet y/d is not recommended and therefore initial vet recommendation is required.
Daily Feeding Guide:
ImportantFeeding Information
· These amounts are a starting point only. Your cat may need lessor more food to maintain proper weight. Adjust as needed. If you are unsure,ask your veterinarian.
· With your veterinarian's approval, mix increasing amounts ofyour cat's new food with decreasing amounts of the old food over a 7-dayperiod.
· Prescription Diet® formulas are available in a wide variety ofdry foods and treats for your cat's unique needs, and canned foods withdelicious flavors your cat will love. Supplementation with other foods ortreats is unnecessary and may decrease the effectiveness of the food. Whenusing with canned food, decrease the amount of dry food to avoid overfeeding.
· Keep fresh water available at all times!
· For best results, have your veterinarian monitor your cat'scondition.
· To prevent suffocation, keep this plastic bag out of the reachof pets and children.
Adult maintenance
| | |
| --- | --- |
| Weight of Cat | Amount per Day |
| 6 lb (2,7 kg) | 1/4 cup (30 g) - 3/8 cup (45 g) |
| 10 lb (4,5 kg) | 3/8 cup (45 g) - 5/8 cup (80 g) |
| 14 lb (6,4 kg) | 1/2 cup (65 g) - 3/4 cup (95 g) |
| 18 lb (8,2 kg) | 2/3 cup (85 g) - 7/8 cup (110 g) |
Adult maintenance -using 5.5 oz (156 g) can
| | |
| --- | --- |
| Weight of Cat | Amount per Day |
| 6 lb (2,7 kg) | 3/4 - 1 can |
| 10 lb (4,5 kg) | 1 1/4 - 1 2/3 can |
| 14 lb (6,4 kg) | 1 1/2 - 2 can |
| 18 lb (8,2 kg) | 1 3/4 - 2 1/2 can |
AverageNutrient And Caloric Contents
Dry 4147 kcal/kg (519kcal/per cup²)
Nutrient


Dry Matter1
%

Protein

36.3

Fat

25.7

Carbohydrate (NFE)

28.6

Crude Fiber

3.1

Calcium

0.95

Phosphorus

0.66

Sodium

Ingredients

Corn Gluten Meal, Pork Fat, Whole Grain Corn, Soybean Mill Run, Egg Product, Chicken Liver Flavor, L-Lysine, Potassium Citrate, Lactic Acid, Dicalcium Phosphate, Fish Oil, Choline Chloride, Calcium Carbonate, Calcium Sulfate, DL-Methionine, Taurine, L-Tryptophan, Brewers Dried Yeast, vitamins (Vitamin E Supplement, L-Ascorbyl-2-Polyphosphate (source of Vitamin C), Niacin Supplement, Thiamine Mononitrate, Calcium Pantothenate, Vitamin A Supplement, Riboflavin Supplement, Vitamin B12 Supplement, Pyridoxine Hydrochloride, Folic Acid, Biotin, Vitamin D3 Supplement), minerals (Ferrous Sulfate, Zinc Oxide, Copper Sulfate, Manganese Sulfate), L-Carnitine, Mixed Tocopherols for freshness, Natural Flavors, Beta-Carotene

Feeding Guide

Adult maintenance

| Weight of Cat | Amount per Day |
| --- | --- |
| 6 lb (2,7 kg) | 1/3 cup (40 g) |
| 8 lb (3,6 kg) | 3/8 cup (45 g) |
| 10 lb (4,5 kg) | 1/2 cup (65 g) |
| 12 lb (5,4 kg) | 5/8 cup (80 g) |
| 14 lb (6,4 kg) | 2/3 cup (85 g) |
| 16 lb (7,3 kg) | 3/4 cup (95 g) |
| 18 lb (8,2 kg) | 3/4 cup (95 g) |

Use only as directed by your veterinarian.

Customer reviews

Product reviews are filtered by language.
The following reviews are available in English.

It really does work!

Our girl 16 was losing weight rapidly but was constantly scavenging for food and her coat was getting very tatty. We tried this food on review recommendations and would never look back. It took a matter of weeks for us to see a difference and now 8 months on she's put all her weight back on and is far more active than she has been in years. It's honestly like a new cat with as many others have said a new lease of life. I had no idea this diet plan would be so successful but thank you hills you've saved our little one and she's content again x

Great product

My cat was losing weight rapidly and had a really high heartbeat. Vet said we should be prepared for her to keel over any moment, but suggested this food for hyperthyroidism. In only a few weeks there was a real difference. Putting on weight thick coat and happy to eat only this, both wet and dry. Since April put on 500 grams, heart rate halved. We've just had her 21st birthday. New lease of life. Unbelievable.

Amazing results in just 4 weeks ,very high thyroid readings back to within normal range!

Our 19 year old cat was diagnosed with an overactive thyroid. At her age the only option was this food. Fussy madam not keen on the tins - but loves the dried food. Just 4 weeks later her thyroid readings were within normal range, and she has put a little weight on too. Now 4 months on, she is a different cat, been given new lease of life. I was sceptical of reviews I read before we bought the food - they were right. Thank you Hills Y/d, without this food it would have been a very different story

y/d diet for cats

great efficient service and at good price!Since giving it to my cat who is 20 yrs old who's thyroid level was 54 which went down to 47,so was well worth it instead of going for the chemical way or surgery.

Lifeline

My 17 year old cat was on his last legs with an over active thyroid problem when I was recommended Hills y/d feline diet food by my vet. I didn't hold out much hope, to see my cat now you would think he was a different animal. He looks 10 years younger, his behaviour is back on track as an adorable, loveable creature. He has a lovely shiny coat & healthy appetite. This product has really given him a new lease of life. Would urge anyone with a pet with this problem to try it.