Skip to content
Skip to navigation menu
Hills Prescription Diet Feline z/d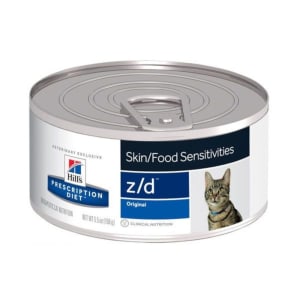 Product details
Hill's Prescription Diet Feline z/d is low allergen.

Key Benefits:
Helps nourish skin and coat as it is formulated with high levels of essential fatty acids.
Helps to neutralise free radicals as it contains high levels of antioxidants.
Customer reviews
Product reviews are filtered by language.
The following reviews are available in English.
Great price - good for cat intolerant to protein

My cat Pitch has this food alongside Purina and it minimizes his condition, sickness and diarrhea. Fab price from Medicanimal and quick service.

Good second choice

My gorgeous 10 year old tabby was diagnosed two years ago with IBD and was put onto Hills Science Perscitption D/D by the vet and was thriving really well on it as a wet food. However when Hills stopped producing the DD last year, we had to find a suitable alternative without upsetting the IBD. The Z/D has become that alternative. Hes not keen on it every day for every meal and we are not keen on the smell but it is working and he is a happy contented kitty once more.

Excellent

My cat was really poorly on so many other food products. As soon as we tried her on the ZD she became better instantly. She has such lovely fur.

It has worked for my cat!

My cat was prescribed this z/d diet about 3 years ago, and I have been advised by the vet to keep him on it because he is doing so well. He used to be sick at least once or twice a day and was very unhappy, but since being on this food, he is very rarely sick only when he has furballs!! and is thriving. His coat is glossy and he is very agile, even at 12 years old, and was described by the vet as being a beautiful, healthy cat. He loves the dry and wet food, and if his wet food is not put down soon enough he lets me know about it!! He loves it.

Skin allergy

My 5 year Cat gets regular skin allergies and has to have steroid injections so have changed her onto this dry food to try to prevent the allergic reactions. She absolutely loves the food and her heads healing nicely. The food is delivered quickly and easily