Skip to content
Skip to navigation menu
Hills Prescription Diet Feline z/d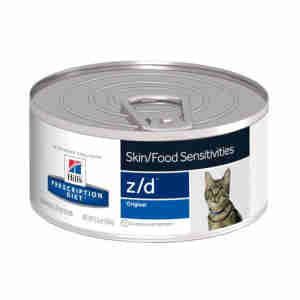 Hill's Prescription Diet Feline z/d is low allergen.

Key Benefits:
Helps nourish skin and coat as it is formulated with high levels of essential fatty acids.
Helps to neutralise free radicals as it contains high levels of antioxidants.
Customer reviews
Product reviews are filtered by language.
The following reviews are available in English.
Excellent

My cat was really poorly on so many other food products. As soon as we tried her on the ZD she became better instantly. She has such lovely fur.

It has worked for my cat!

My cat was prescribed this z/d diet about 3 years ago, and I have been advised by the vet to keep him on it because he is doing so well. He used to be sick at least once or twice a day and was very unhappy, but since being on this food, he is very rarely sick only when he has furballs!! and is thriving. His coat is glossy and he is very agile, even at 12 years old, and was described by the vet as being a beautiful, healthy cat. He loves the dry and wet food, and if his wet food is not put down soon enough he lets me know about it!! He loves it.

Skin allergy

My 5 year Cat gets regular skin allergies and has to have steroid injections so have changed her onto this dry food to try to prevent the allergic reactions. She absolutely loves the food and her heads healing nicely. The food is delivered quickly and easily

Had to persevere with our cat but got there in the end!

We bought a pack of the dry food and a pack of the wet food the picture is confusing, if you want the wet food select the option 24 x 156g which is 24 small tins of wet food. Like many other people have said, our cat ate the dry food but would not touch the wet. She is very fussy and she just kept looking at it and walking off! It is a mousse like consistency so I tried putting it in her bowl in one big lump and then in smaller 'pieces' which seemed to work better. I just kept putting the wet food out for her every morning then throwing it away when she didn't eat it and putting dry food out in the evening as normal. By the end of the first week, after a lot of wet food ending up in the bin, she started to realise that she wasn't getting anything else so she started to eat it. Now we are on week 7 or 8 and she eats all of it every time - not usually all in one go but by the afternoon her bowl is empty. And she used to always leave some of her old food!

z/d dry UPDATE

My cat has been on the dry food for 2 weeks now, she would not eat the z/d wet food at all, but seemed to enjoy the z/d dry food. Her skin redness, scabbing, itching & hair loss-all around her chin and head quickly cleared up within days of replacing her branded cat food with this diet, however she's now started to have diarrhoea on the z/d, where she have a problem with before, it must be too rich for her-and I've just bought another 2 bags!!!! I'm quickly running out of solutions. Tried the Royal canin hypoallergenic dry food, cat would not eat this at all!