Skip to content
Skip to navigation menu
Hill's Science Plan Feline Oral Care Chicken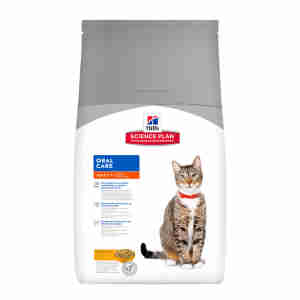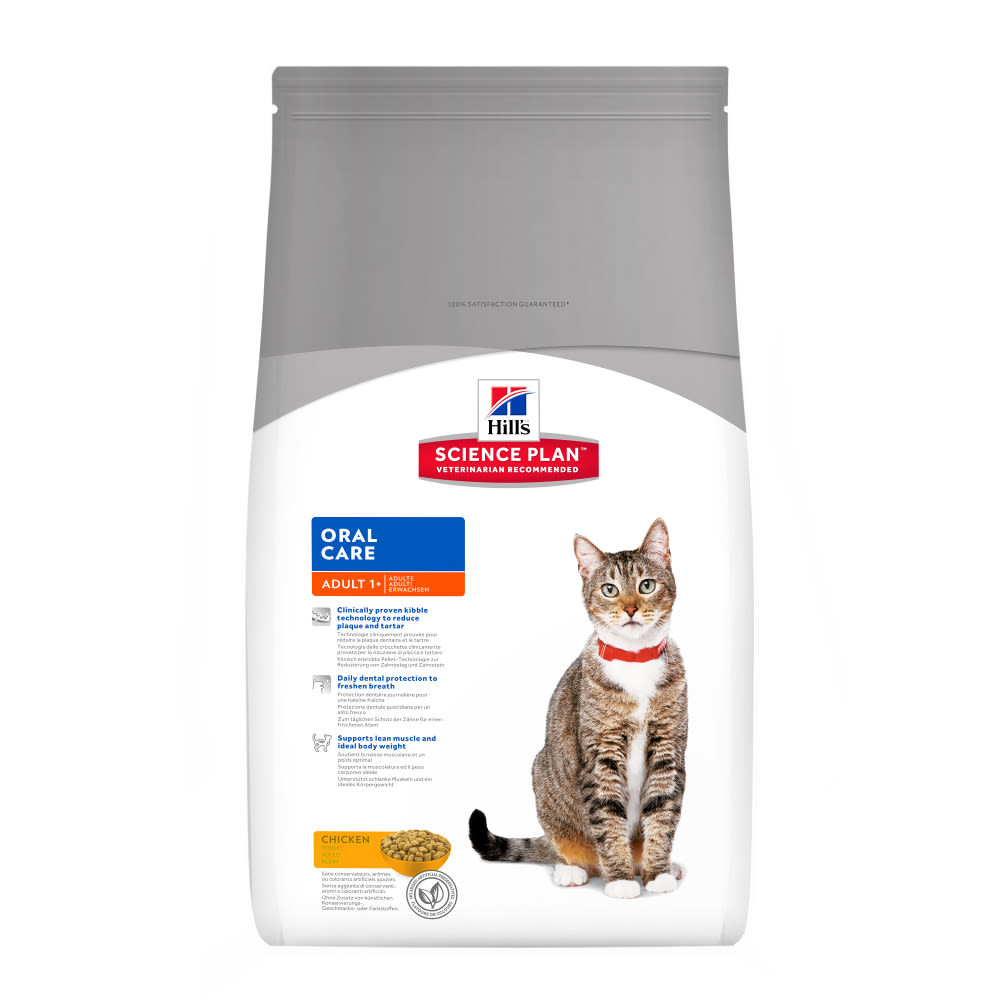 Rollover image to zoom
Product details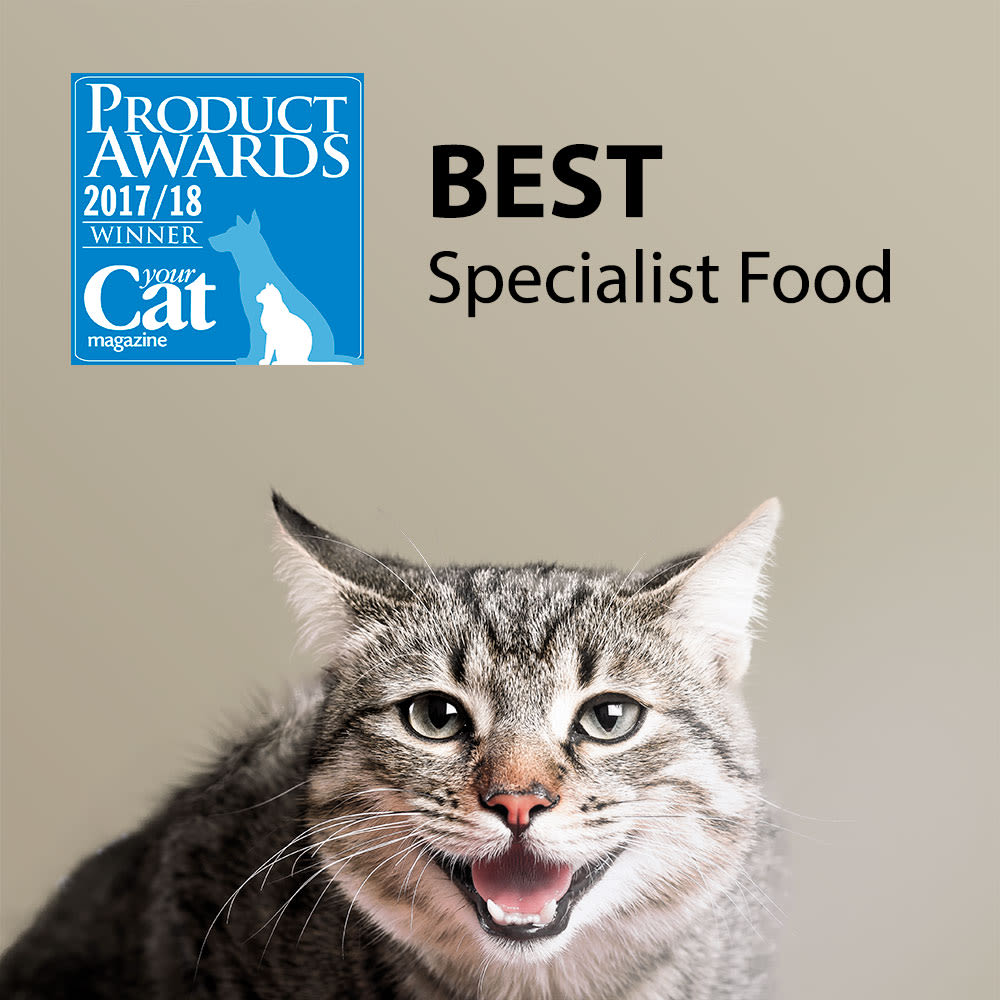 Hill's Science Plan Feline Oral Care is a complete pet food designed to improve your cat's oral health. Tooth decay and tartar build-up can cause serious and long-term health problems, so looking after your cat's oral hygiene is key to helping them live a healthy life.
How it works
This cat food attacks deposits of tartar in your cat's mouth. The kibble has been designed to clean your cat's teeth as they chew, reducing the plaque and tartar build-up in their mouth. As well as helping to prevent tooth decay and infection, the removal of plaque and tartar also helps to freshen your cat's breath.
The food is a good source of protein – the group of nutrients essential for sustaining your cat's natural ability to build and regenerate muscle tissue – so your pet can continue to live life to the full. The high-quality ingredients and tasty flavour appeal to your cat's tastes and encourage a healthy eating routine whilst at the same time maintaining a healthy weight.
Key benefits
specially designed kibble helps to clean your cat's teeth, reducing plaque and tartar build-up
controlling tartar helps to reduce the chance of developing digestive disorders
high-quality protein helps to build and restore muscle
made with high-quality ingredients to appeal to your cat's taste.
When to use it
Hill's Science Plan Feline Oral Care is a complete cat food and is suitable for use as your cat's regular pet food.
If you feel that your cat's dental hygiene needs attention, switching to an oral care food can prevent further, lasting damage to your cat. Tartar build-up can be incredibly detrimental to your cat's general health; left untreated, it can enter your cat's digestive system and cause health issues elsewhere. Tackling plaque build-up in your cat's mouth can help to prevent painful digestive disorders in the future.
Ingredients
INGREDIENTS
Chicken (minimum Chicken 43%, Chicken and Turkey combined 58%): Chicken and turkey meal, ground rice, ground maize, maize gluten meal, cellulose, animal fat, vegetable oil, digest, potassium chloride, calcium sulphate, dicalcium phosphate, salt, DL-methionine, taurine, vitamins and trace elements. Naturally preserved with mixed tocopherols, citric acid and rosemary extract.
NUTRITION
As fed

Dry matter

per 100 kcal ME

Protein

32. 0

%

34. 8

%

9. 1

g

Fat

15. 2

%

16. 5

%

4. 3

g

Carbohydrate (NFE)

32. 0

%

34. 8

%

9. 1

g

Fibre (crude)

7. 4

%

8. 0

%

2. 1

g

Moisture

8. 0

%

-

2. 3

g

Calcium

0. 93

%

1. 01

%

263

mg

Phosphorus

0. 70

%

0. 76

%

198

mg

Sodium

0. 34

%

0. 37

%

96

mg

Potassium

0. 60

%

0. 65

%

170

mg

Magnesium

0. 06

%

0. 07

%

17

mg

Omega-3 fatty acids

0. 22

%

0. 24

%

62

mg

Omega-6 fatty acids

2. 60

%

2. 83

%

737

mg

Taurine

0. 11

%

0. 12

%

32

mg

Vitamin A

9, 950

IU/kg

10, 815

IU/kg

282

IU

Vitamin D

510

IU/kg

554

IU/kg

14

IU

Vitamin E

550

mg/kg

598

mg/kg

16

mg

Vitamin C

70

mg/kg

76

mg/kg

2. 0

mg

Beta-carotene

1. 5

mg/kg

1. 6

mg/kg

0. 04

mg
Customer reviews
Product reviews are filtered by language.
The following reviews are available in English.
The cats love it

We switched to the Oral care dry cat food following advice from our vet that our 9 year old Bengal cat Rajah's teeth were not in perfect condition. We were delighted to find that both our cats prefer this food to their previous dry cat food. We will see if find out if the teeth have improved at the next check up.

Cats love this

Advised to feed to both of my cats by Vet. Older cat who's 9 has long standing dental problems, taken in as a stray and already had severe gingivitis. Our younger cat who's 4 just loves it and eats this in preference to wet food and has healthy teeth and no smelly breath! Great stuff

Just what the feline ordered

My 8 year old female has, sadly, lost most of her teeth; before deciding on this, I bought a small bag and set up two bowls of this and her regular cat food. The oral care vanished a lot faster, so now it's all she eats and seems happier for it :)

hills oral care

dry food to minimize plaque

Its great

Ive been buying this since my cat had to have teeth out .The vet said they were doing the job and keeping remaining teeth clean. You can't get more highly recommended than that.