Skip to content
Skip to navigation menu
Hollings Premium Pig Ears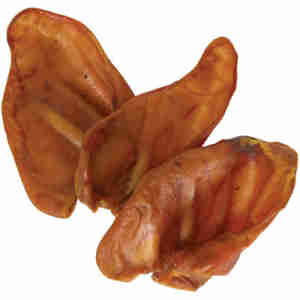 Hollings Premium Pig Ears are quality natural air dried pig ears that can be used as a treat, reward or training aid.
These treats are suitable for dogs of all ages and sizes, they will go wild for them
Please ensure there is always fresh drinking water available when feeding these treats.
Customer reviews
Product reviews are filtered by language.
The following reviews are available in English.
Jack terrier doesnt like these.

Quite surprised my 9kg Jack Terrier doesn't like these. He's not fussy and eats pretty much everything. You get a large amount for a low price though. Also more brittle than I thought it would be too.

My fussy,terrier refused all the usual treats. "Pigs Ears",fixed that..!!Great price, no bulk carrying, problem solved. Adores them..!!

My dogs have 1 of these each night & totally adore them. Before I found this site I was paying at local pet stores £60.00 a box which was quite worrying. I now buy from this super site & paying just over £38.00 for 50! The quality is fantastic, my dogsare happy & so am I.

Was hesitant to buy them but they are excellent: just as described, large and premium quality. I have 2 large dogs and the size is just right for them. Very happy with the purchase and will buy again

Use to buy a great deal of these in the 50 per box size. My 2 Old English Sheepdogs love them. Stopped buying them now for a few reasons. They used to be all of a simular large size and good quality. However, as time went on the cost went up and the quality dropped. There were more and more smaller sized ears in the box for the extra money and many seemed to be of darker colour and very smelly and greasy to the touch. In the end even the dogs would not finish them and I threw them out as they were stinking