Skip to content
Skip to navigation menu
James Wellbeloved Senior Cat Fish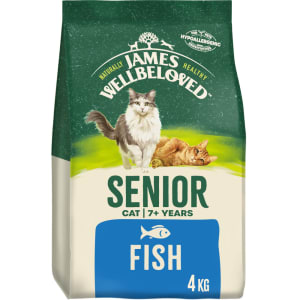 Product details



Ideal for cats over 7 years old.




A complete dry food with the bonus that it is hypo-allergenic. With selected protein source duck and selected carbohydrate source rice, it is a dietetic food, excellent for the reduction of ingredient and nutrient intolerences. We suggest that the food be tried for a period of 3 to 8 weeks. If the signs of the food intolerence disappear, continue feeding indefinitely.




The benefits for your cat:




- Made with natural ingredients with added vitamins and minerals

- Hypoallergenic - ideal for cats with skin or digestive sensitivities

- Single meat protein- duck

- No added artificial colours, flavours or preservatives

- They exclude the most common causes of adverse food reaction




PROMOTES A HEALTHY, GLOSSY COAT

(blend of omega-3 and omega-6 fatty acids)




HELPS TO REDUCE STOOL ODOUR

(added yucca extract)




ENCOURAGES BENEFICIAL BACTERIA IN THE GUT

added prebiotic - natural chicory inulin




CONTAINS CRANBERRY EXTRACT

widely believed to be beneficial to the urinary tract




JOINT SUPPORT

JW+ -chondroitin, glucosamine & herb





Available in Duck & Rice, Lamb & Rice, Fish & Rice and Turkey & Rice flavour.







Composition: rice, duck meal, duck fat, maize gluten, potato protein, poultry gravy, tomato pomace, pea protein, carrot, potassium chloride, omega oil supplement, chicory extract, calcium carbonate, sodium chloride, cranberry extract, glucosamine, nettles, chondroitin, yucca extract

Minimum levels: duck (26%), rice (26%), poultry gravy (3%), tomato pomace (2%), carrots (1%), yucca extract (0.02%), chicory extract (0.25%), cranberry extract (0.05%), glucosamine (0.02%), chondroitin (0.02%), nettles (0.02%)

Additives per kg: antioxidants: E306/Natural antioxidant, 200mg, Vitamins: E672/Vitamin A, 30,000 iu, E671/Vitamin D3, 2,250 iu, Amino Acids: taurine, 2000mg. Trace elements: E1/iron, 40mg, E2/iodine, 2mg, E4/copper, 5mg, E5/manganese, 25mg, E6/zinc, 100mg, E8/selenium, 0.2mg

Analytical Constituents: protein 31%, crude fibres 1.5%, fat content 20%, crude ash 6.0%, Vitamin E 600mg/kg, omega-3 fatty acids 0.4%, omega-6 fatty acids 3.7%, phosphorus (P) 0.8%







Composition: rice, lamb meal, maize gluten, pea protein, olive oil, lamb fat, potato protein, tomato pomace, vegetarian digest, carrot, lamb gravy, potassium chloride, omega oil supplement, chicory extract, calcium carbonate, sodium chloride, cranberry extract, glucosamine, nettles, chondroitin, yucca extract

Minimum levels: lamb (22%), rice (26%), lamb gravy (1%), tomato pomace (2%), carrots (1%), yucca extract (0.02%), chicory extract (0.25%), cranberry extract (0.05%), glucosamine (0.02%), chondroitin (0.02%), nettles (0.02%)

Additives per kg: antioxidants: E306/Natural antioxidant, 200mg, Vitamins: E672/Vitamin A, 30,000 iu, E671/Vitamin D3, 2,250 iu, Amino acids: taurine, 2000mg. Trace elements: E1/iron, 40mg, E2/iodine, 2mg, E4/copper, 5mg, E5/manganese, 25mg, E6/zinc, 100mg, E8/selenium, 0.2mg

Analytical Constituents: protein 30%, crude fibres 1.8%, fat content 20%, crude ash 6.8%, Vitamin E 600mg/kg, omega-3 fatty acids 0.2%, omega-6 fatty acids 2.1%, phosphorus (P) 1.0%







Composition: rice, white fish meal, olive oil, maize gluten, potato protein, fish stock, fish oil, pea protein, tomato pomace, carrot, potassium chloride, chicory extract, calcium carbonate, sodium chloride, cranberry extract, glucosamine, nettles, chondroitin, yucca extract

Minimum levels: fish (25%), rice (26%), fish stock (4%), tomato pomace (2%), carrots (1%), yucca extract (0.02%), chicory extract (0.25%), cranberry extract (0.05%), glucosamine (0.02%), chondroitin (0.02%), nettles (0.02%)

Additives per kg: antioxidants: 06/Natural antioxidant, 200mg, Vitamins: E672/Vitamin A, 30,000 iu, E671/Vitamin D3, 2,250 iu, Amino acids: taurine, 1000mg. Trace elements: E1/iron, 40mg, E2/iodine, 2mg, E4/copper, 5mg, E5/manganese, 25mg, E6/zinc, 100mg

Analytical Constituents: protein 31%, crude fibres 1.8%, fat content 20%, crude ash 6.4%, Vitamin E 600mg/kg, omega-3 fatty acids 1.5%, omega-6 fatty acids 2.4%, phosphorus (P) 0.8%







Composition: rice, turkey meal, turkey fat, maize gluten, potato protein, poultry gravy, pea protein, tomato pomace, carrot, potassium chloride, omega oil supplement, chicory extract, calcium carbonate, sodium chloride, cranberry extract, glucosamine, nettles, chondroitin, yucca extract

Minimum levels: turkey (26%), rice (26%), poultry gravy (3%), tomato pomace (2%), carrots (1%), yucca extract (0.02%), chicory extract (0.25%), cranberry extract (0.05%), glucosamine (0.02%), chondroitin (0.02%), nettles (0.02%)

Additives per kg: ntioxidants: E306/Natural antioxidant, 200mg, Vitamins: E672/Vitamin A, 30,000 iu, E671/Vitamin D3, 2,250 iu, Amino acids: taurine, 2000mg. Trace elements: E1/iron, 40mg, E2/iodine, 2mg, E4/copper, 5mg, E5/manganese, 25mg, E6/zinc, 100mg, E8/selenium, 0.2mg

Analytical Constituents: protein 31%, crude fibres 1.5%, fat content 20%, crude ash 6.1%, Vitamin E 600mg/kg, omega-3 fatty acids 0.4%, omega-6 fatty
Customer reviews
Product reviews are filtered by language.
The following reviews are available in English.
Best dry cat food.

My cats absolutely love this food.

Good stuff!!

The cats love it and it arrives in good time. Only complaint - as always - would like larger bag.

Cats love it

Good value always delivered on time.

My cats love this food!!!

All my 5 oldies love this food and look really well on it- even the oldest who is 21!!! Delivery is great and super quick!!

Dry Cat Food

James Wellbeloved Cat senior fish was really loved by my cat. She suffers a bit from urinary tract infections and these seem to be going down well. I am now going to try the meat ones.