Skip to content
Skip to navigation menu
Add to an existing repeat order
Add to an existing repeat order
You are adding: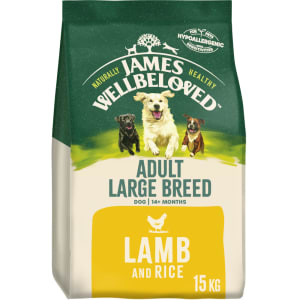 James Wellbeloved Dog Adult Large Breed Lamb & Rice
To the following repeat order:
Next order due on:


Delivered every
ending
Add to an existing repeat order
Thank you, we have updated your order. Your order is due on
You're setting up the following repeat order: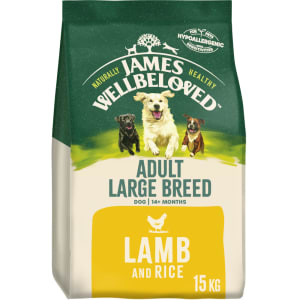 James Wellbeloved Dog Adult Large Breed Lamb & Rice
James Wellbeloved Dog Adult Large Breed Lamb & Rice
Product details
James Wellbeloved Adult Large Kibble contains all the wholesome, natural ingredients that an adult large breed dog needs to keep him fit and healthy, and is ideal for dogs with loose bowels and skin irritation. It is hypoallergenic, uses activity balanced proteins to calm hyperactive behaviour and contains seaweed, alfalfa and yucca in addition to natural sources of Vitamins E and C for their anti oxidant qualities.

James Wellbeloved Adult Large Kibble is great for dogs when they have finished the growing stage of their life and will take them through to their senior years. In addition to the normal Adult formula, this food contains glucosamine, chondroitin and herbs to help support the joints and combat arthritis.

Giant dogs in particular are susceptible to gastric bloat which may be caused by eating too fast. The shape and size of our large kibble is designed to slow down the food intake by encouraging the dog to chew each kibble.

All our large kibble dog foods contain special ingredients to care for your dogs health and well-being including:
Antioxidants - Contains natural Vitamin E and Vitamin C as mixed tocopherol antioxidants.
Vitamins - Includes all essential vitamins required, including A, D, E and the B Complex.
Prebiotics - Added Chicory, rich in inulin which helps to maintain a healthy gut flora.
Minerals - The right balance of minerals and trace elements help to maintain the health of your dog.

The unique formula JW+ Joint Therapy system is a special mix of chondriotin, glucosamine and herbs to help lubricate dogs joints and ligaments, aiding mobility.

Available in Duck & Rice, Fish & Rice, Lamb & Rice and Turkey & Rice.


Customer reviews
Product reviews are filtered by language.
The following reviews are available in English.
Expensive, but best food for my dogs I eve have

I have two Labs both being fed on a leading premium brand, when the older (5yrs) started to rub her head on the carpet and loose hair around her eyes. Vet checked her over and suspected an allergy to something in her food. Suggested using James Wellbeloved. Over the next month or two she stopped scratching and soon after has a silky coat and looks her usual self. She also reacted to a joint care product so suspect her allergy is fish based.Both dogs now on JW Lamb and Rice, love their food, and looking gr8

My two Labs love James Wellbeloved food.
Its no good me saying how good it tastes and how well they thrive on this food and how beautiful their coats are .... you need to ask them, they have no problem in knocking you out of the way when called for Dinner , they cannot get enough of it and woe betite me if im a few minutes late serving them their Turkey and Rice , they will sit and stare at me relentlessly until i go in the kitchen and serve them with their James wellbeloved .

I decided to give this larger kibble a try as my 6 year old Golden Retriever would bolt her food down in seconds without chewing & my 15 mth GSD would occasionally choke on the normal size kibble. I have to say this has cured both problems so very pleased.

I feed my adult female Boxer, Dolly on another leading brand dry dog food. It was a Pedigree food. She seemed happy enough on the food but increasingly her coat became dull and she seemed to shed a lot, she was lethargic and seemed to sleep quite a lot. A friend recommended I tried her on a different food after explaining the importance of digestible and non digestible proteins in the food. After researching the subject on the internet I chose James Wellbeloved Turkey and Rice. This is one of the best deci