Skip to content
Skip to navigation menu
Add to an existing repeat order
Add to an existing repeat order
You are adding: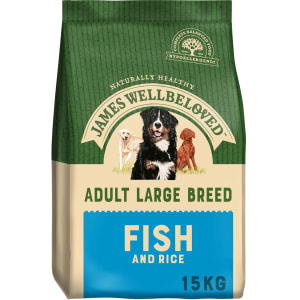 James Wellbeloved Dog Adult Large Breed Fish & Rice
To the following repeat order:
Next order due on:


Delivered every
ending
Add to an existing repeat order
Thank you, we have updated your order. Your order is due on
You're setting up the following repeat order: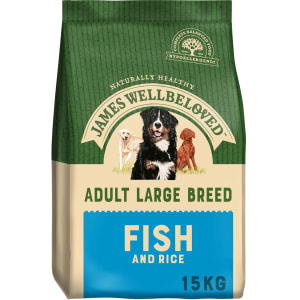 James Wellbeloved Dog Adult Large Breed Fish & Rice
Product details
James Wellbeloved natural dog food, puppy food and dog treats Naturally healthy and hypoallergenic - James Wellbeloved complete dog foods are specially selected with wholesome ingredients which make them naturally healthy, completely satisfying and very tasty for your dog. With no beef or pork, no wheat or wheat gluten, no dairy products or egg our complete dog food is hypoallergenic and free from many of the ingredients which are renowned for causing food intolerances. Hypo-allergenic means a reduced risk of food allergy or intolerance. It contains no added artificial colours, flavours or preservatives. James Wellbeloved complete dog food has been developed to be easy on your dog's digestive tract and soothe itchy coats. With your dog's wellbeing in mind, our recipes contain a single source of meat protein - either turkey, duck, lamb or ocean white fish of the finest quality. The carbohydrate content of our food comes from rice, oats and barley. They are not only a valuable energy source but delicate on your dog's digestion too. We always give you a full list of ingredients on all our products, so you know exactly what you are feeding your pet. Compare the ingredients list of James Wellbeloved complete dog food with other dog foods and you will see why your dog will love the taste of James Wellbeloved. James Wellbeloved Ocean White Fish & Rice dog food Complete balanced dry dog food Wholesome, natural hypo-allergenic dog food. Helps loose bowels and calms itchy, irritated skin and coat. The benefits for your dog The delightful fresh taste of Ocean White Fish & Rice is one that dogs love. Low in histamine, white fish is also high in omega 3 fatty acids which are vital for maintenance of optimum health. The necessary dietary fibre is provided by peas and chicory, something different for our Ocean White Fish & Rice diet. And olive oil is not only delicious, but also has a high mono-unsaturated content compared to other oils, and is well known as part of the healthy Mediterranean diet. Great Value Super Premium Pet Food James Wellbeloved Ocean White Fish & Rice Dog Food can often work out cheaper then you may think with a 15kg bag containing 50 days of feeding with an average monthly feeding cost of £28. 49, based on the average requirement of an adult dog with normal activity levels weighing 20kg* All Royal Canin pet foods come with a 100% satisfaction guaranteed or your money back, simply return your purchase back to PET SUPERMARKET®** *Based on the recommended manufacturer retail price, and recommended feeding guidelines from the manufacturer for 30 days feeding. **Please note that you will be responsible for the cost of returning the product back to PET SUPERMARKET® and you will be eligible for a full refund of the price paid for the food. If you received free delivery with your order, and the refund brings your order total under the PET SUPERMARKET® free delivery threshold you will be charged at the prevailing rate as per our postage tariff on the day on which you placed your order.
Customer reviews
Product reviews are filtered by language.
The following reviews are available in English.
Excellent

Excellent prices fast delivery

Great food, Amazing Service from MedicAnimal

This food is great, and perfect for our dog who has a very sensitive stomach and can get bad skin allergies from certain foods, no such issues with this food, and have been using for almost a year now. I find this flavour also is a lot better for the normal smells a dog can make ... it's much better for that than the meat options. I always use MedicAnimal now for purchasing, and have saved a small fortune by doing so. On average, I am spending around £45 a bagcheapest I paid was actually £25, compared to £60-£65 at my local shop. In addition, I make use of the odd 20% voucher, free pouch purchases and am now a VIP member meaning I get 25% off twice a year. With free delivery to your door, which normally only takes a few days, I could not be happier with MedicAnimal.com and this product.

Food

My dog has been on this brand since she was a puppy. Tried Changing it once to a local brand but she got spots so changed her straight back. Order in advance because delivery can sometimes take a while.

This is not a review of this product but of the almost unbelievable service I received from petsupermarket this weekend. I ordered my JWB at about 8.30am on Friday, a bit worried I was nearly out of supplies, and amazingly it was here on Saturday morning despite having only asked for the "snail" service. Thanks so much PSM you made my little daxie very happy!

Being an ex veterinary nurse I know a lot about animal nutrition. I am a big fan of raw feeding for dogs and when my dog was severely under weight I fed him purely on the raw diet to help entice him to eat and it worked. So I then found a company who produce a natural dog food. It made it easier and cheaper and he has always seemed to like it. However, he`s started to develop skin problem mildly and the on and off dickie tummy. So I felt it was time to do some more research into a hypoallergenic dog food th