Skip to content
Skip to navigation menu
Kokoba 2 in 1 Shampoo & Conditioner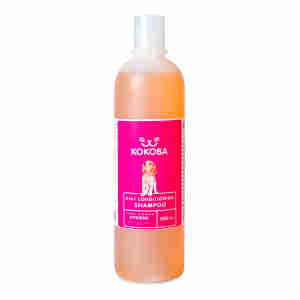 Rollover image to zoom
Product details
Kokoba 2 in 1 shampoo & conditioner cleans and softens your cat or dog's hair, and leaves them smelling really nice too.
How it works
This soft and gentle shampoo can be used to bathe adult pets, but the formula is so mild that it can be used on kittens and puppies too. It's really gentle on skin and shouldn't irritate eyes, so if your four-legged friend needs to be bathed a lot, this formula is an excellent choice. It's full of natural ingredients and is good for the environment (it's 90% biodegradable). The ingredients have been carefully chosen to nourish your beloved pet's coat. They include tocopheryl acetate, a form of vitamin E which moisturises and acts as an anti-inflammatory and peg-75 lanolin, which also their moisturises hair (fun fact: it's actually extracted from sheep wool).
Key benefits
500 millilitre bottle
formulated for dogs and cats
gentle enough for scrubbing puppies and kittens
can be used regularly
contains lanolin to keep coat soft and nourished
antioxidant vitamin E supports overall hair and skin health
pH balanced and kind to skin
environmentally friendly formula is 90% biodegradable.
When to use it
Your pet's coat needs its natural oils to stay healthy, and washing your pooch or kitty too much can strip them away. It's best not to bathe your buddy too often. As a rule of thumb, only wash your pet when they start to smell bad or if they're noticeably dirty (a roll in something nasty will do the trick on both counts). Use this shampoo by wetting them all over with warm (but not hot) water. Massage the shampoo into their coat until it builds up a good lather, then rinse and repeat.
Ingredients
Water, surfactants, aloe vera, peg-75 lanolin, polyquaternium-7, tocopheryl acetate, triclosan, centrimonium chloride, silicone quetarnium-22, fragance.
Customer reviews
Product reviews are filtered by language.
The following reviews are available in English.
Good quality shampoo

Great conditioning which made our dogs coats easier to groom. It should last for a while as you don't need much to get a decent lather.The odour reduction was good and lasted well but one of our dogs prefers other smells and quickly found things to roll in!

Dog likes it!

Great shampoo with no odour. The one we had before had a scent our dog hated so much that she instantly threw herself in the next mud puddle afterwards or worse!. This one is gentle, easy & good to spread and seemingly gets accepted smell wise by the dog. Also, to get the dog clean a small amount of shampoo is enough. Shiny fur included We love it!