Skip to content
Skip to navigation menu
Kokoba Carpet Pet Hair Remover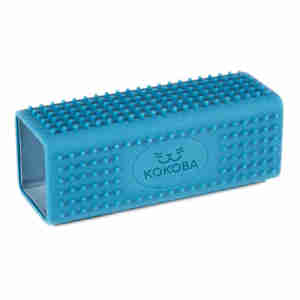 Rollover image to zoom
Product details
The Kokoba Pet Fur Remover keeps your upholstery free of hair and fluff.

How it works
The rolling shape of the Kokoba Pet Fur Remover is simple to use. Just roll it along your furniture and watch it pick up stray hairs and lint. This tool comes in handy if your pet is prone to shedding or has a long coat.
Made from lightweight rubber and plastic, it's super simple to transport this device when you're visiting friends or family, for use in the car or on the move. To keep it clean, simply remove the fur after use and wash with warm water as is needed.
The rubber material picks up hair efficiently with simple strokes. The streamlined shape is perfect for upholstery of all types and can fit into cracks in sofas and chairs.

Key benefits
can be used on all fabrics
made from plastic and rubber
removes fur from upholstery
square shape gives quick rolling action
small, lightweight and easy to transport.
When to use it
In the summer, as the weather warms up, you might notice that your pet loses lots of hair. Cats and dogs shed their winter coats as the temperature rises, which can mean that they leave a trail of fur on furniture and carpets.
Shed fur can easily be tracked around your home and stick to clothes and coats. Keep this small device to hand for quickly running over furniture to pick up dead fur.
To help limit the amount of hair your pet loses, groom them regularly – this will also help to keep their coat clean, shiny and free of tangles.
Customer reviews
Product reviews are filtered by language.
The following reviews are available in English.
My grandson thinks they are excellent

My daughter and her son used it on my car seats after a particularly hairy dog shed, what I thought was half it's hair, but using this they had the whole car de-haired in less than half an hour. Really impressed

Simple but Brilliant

Perfect to use on my narrow stairs where the cats lie, i also use it on my bath mats, their beds & vet bed. A must for any multi cat household.

Wish I had bought this years ago!

Our Alaskan Malamute casts her coat twice a year and you can fill a bin bag with her hair in two weeks. I disregarded adverts for the Kokoba Pet Hair Remover as It seemed to inexpensive to be of any use. What a mistake, the product proved to be fantastic in use. My black car carpets have been given a new lease of life and all around the house her hair is easily and efficiently removed. Altogether a great product for the cost of a pint.

Best Pet Hair Remover Ever

This brush is fantastic. Been wanting something to remove the cat hair from my curtain linings and this is just brilliant. I've used it on everthing; clothing, sofas, duvets, curtains and it works perfectly. If your have fur kids that shed get one of these

Where has this item been hiding all my pet owning life!?

Fantastic product, so easy to use, does exactly what is expected. Removes pet hairs & human ones from clothing too, works equally brilliantly from all the materials I have used it on...towelling, dogs bedding outer cover & before throwing it in the washing machine cushions, fleece. Run it under the tap to clean. It doesn't hold the hair/debris, it removes it, so it's better to use it outside . I completely recommend this excellent little, simple tool.