Skip to content
Skip to navigation menu
Kokoba Cat Litter Box Carbon Filter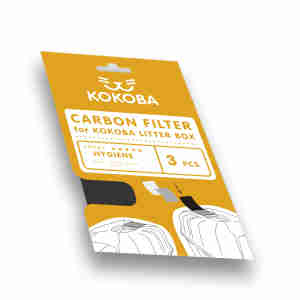 Rollover image to zoom
Product details
A Kokoba cat litter box carbon filter can reduce any unpleasant odours coming from your cat's toilet area.
How it works
Activated charcoal is known for its ability to absorb nasty odours and bacteria. If you put it next to a strong-smelling substance, it'll soak up and neutralise the stench. Litter boxes are known for being a bit whiffy, which is why more litter box pads are being made with charcoal in them. The Kokoba cat litter box has a slot in the cover especially for carbon filters like this one. Pop it in and you should notice the smell becoming less powerful. Change the filter once a month if you have one cat – if you have more, you'll probably need to change it more often. If you follow your nose, it'll be pretty obvious when it's needed.
Key benefits
filters bad smells coming from your cat's litter tray
goes perfectly with the Kokoba cat litter box
three in each pack (about three month's supply).
When to use it
If the smell from your cat's litter box is getting a bit overpowering, adding a carbon filter can help to reduce the pong. Sometimes toilet smells can be caused by your pet doing their business where they shouldn't be. They might not be using their litter box because there's not enough privacy, because it's too near their food source, or because it's not clean enough for them. Keeping the litter tray clean will also help to reduce the smells coming from it.
If your cat's pee smells really bad, switching to clumping litter makes it easier to pick up and get rid of. You should try to rake through your cat's litter tray once a day, and get rid of any mess. Add a handful of fresh litter each time, and a little pinch of baking powder to absorb some of the bad smells. Try to change the litter completely once a week, and wash the tray thoroughly in hot water. If the smell is still really strong after doing this and using charcoal, your four-legged-friend might have medical issues. Really smelly poo can be a sign of gastrointestinal issues and food intolerances, so it's best to see your vet about it.