Skip to content
Skip to navigation menu
Kokoba Deshedding Conditioner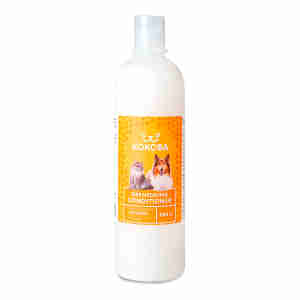 Rollover image to zoom
Product details
Kokoba deshedding conditioner can be applied after shampooing to cut down shedding and soften tangles in long coats.
How it works
Deeply nourishing and moisturising, this conditioner has been formulated specially to strengthen your pet's skin and hair. The natural ingredients work together to release your pet's undercoat, so they're less likely to shed hair excessively. It's also good for softening tangles and knots in longer hair, so grooming or brushing your four-legged-friend will be a lot easier. It's deeply hydrating, designed to boost skin health and regenerate unhealthy skin and hair cells. It's also 90% biodegradable, meaning the formula's not just good for your pet's coat, but is also environmentally friendly.
Key benefits
500 millilitre bottle
formulated for dogs and cats
nourishing formula helps to regenerate and repair skin and hair cells
softens and detangles longer hair for easy grooming
deeply moisturising
ingredients are more than 90% biodegradable
professional groomers use it
pH balanced for kindness to skin.
When to use it
Most cat and dog breeds drop hair as they grow thicker winter coats and shed them for spring. If they're losing more hair than normal, it could be a sign that something is potentially wrong. Hair loss is linked to poor nutrition, medical conditions and stress, so it's worth visiting the vet for diagnosis. The ingredients in this conditioner can strengthen hair, so if your pet continues to shed more than normal it's best to contact a professional.
This conditioner can help to soften tangles in your long-haired pet's coat. When knots are ignored, they can become matted, which can be uncomfortable or even painful for your four-legged friend. Use the conditioner after washing your pooch or kitty as normal. After rinsing, slather the conditioner onto their coat. Comb through, leave for five minutes, and rinse thoroughly.