Skip to content
Skip to navigation menu
Kokoba Dog Chew Toy - Rugby Ball with Rope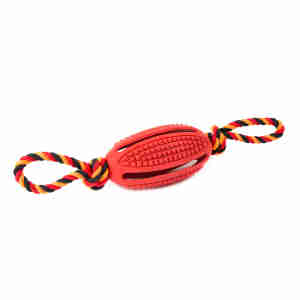 Rollover image to zoom
Product details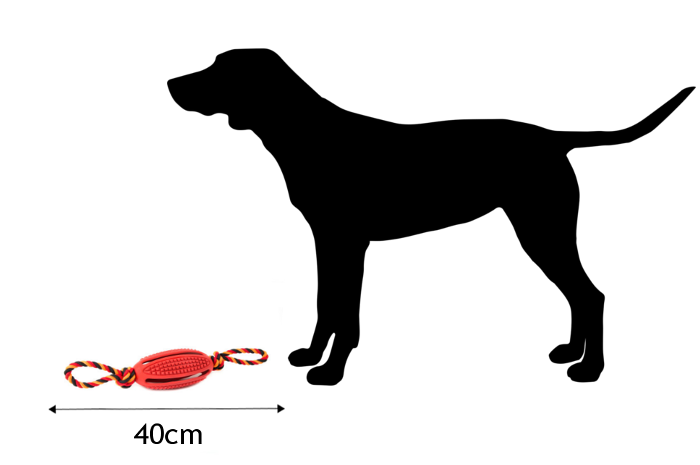 Bring the Kokoba rugby ball with rope with you when you go out for walkies with your furry friend for some super fun exercise.
What it's for
Your pup will love playing games with this Kokoba rugby ball. The rope means you can launch it extra-far if you're playing fetch (great for those natural hunting instincts!) or you could use it for a tug-of-war.
Playing with your buddy is a really simple way of building a bond between the two of you. If you've got a new arrival in your house, this is perfect for helping them feel more comfy and relaxed.
It's made with a non-toxic rubber that's 100% natural, meaning it's safe for your pup and good for the environment.
Key benefits
non-toxic material that is safe for your dog to chew on
adjustable rope for a variety of games
encourages physical exercises
total measurement 40 (l) x 9 (w) cm. Ball: 18 (l) x 9 (w) cm
provides your dog with mental and physical stimulation.
How it works
This rugby ball's perfect for getting your pal running around and having fun. Simply fold the rope into a handle for a spot of tug-of-war. Your pooch won't know it, but as they hold onto the rope with their teeth, they'll be helping to strengthen their jaw – which is great as they get older, as it can mean they'll still be able to chew on their favourite hard treats.
The toy can also be used to play fetch. Simply throw the rugby ball into the air and let your dog's hunting and chasing instincts kick in as they run to catch the ball.
Customer reviews
We're sorry but there are no reviews of this product in English.