Skip to content
Skip to navigation menu
Kokoba Dog Chew Toy - Tyre with Rope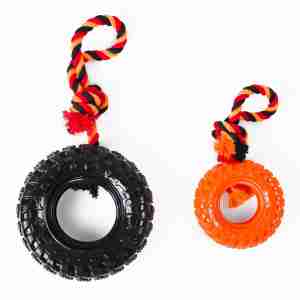 Rollover image to zoom
Product details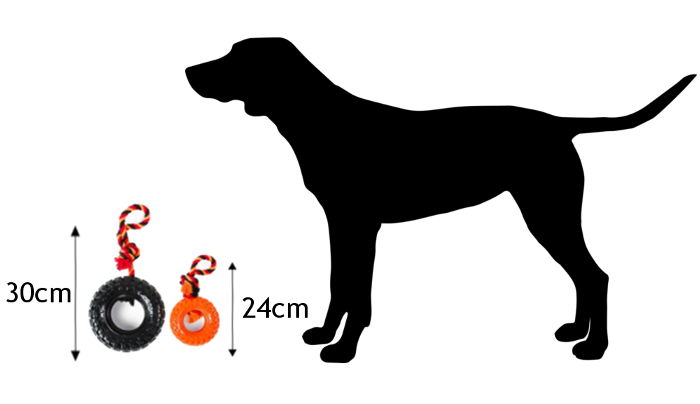 The Kokoba tyre with rope is a lightweight toy that can be used in different games to make exercising more fun for your doggy.
What it's for
The tyre with rope's great for all sorts of games, from tug-of-war toy to playing fetch or even just for your dog to play with on their own. The strong rubber material also helps strengthen your buddy's jaw as they chew on it. This is really important for older pooches as it means they can still enjoy chewing on harder treats like bones.
If your dog's a natural hunter like a greyhound, their instincts will kick in as they chase the toy and bring it back to you. The lightweight toy can be thrown really quite far as it can be swung from the rope. Your four-legged pal will have a great time running around chasing after the tyre.
Key benefits
floating toy that can be used in the pool or at the beach
made from non-toxic durable material
mentally and physically stimulates your dog.
How it works
The thermoplastic rubber (TRP) material is great for chewing and even if your buddy thinks they're just having fun, that gnawing action helps build a strong jaw. This means they'll still be able to comfortably munch on their favourite biscuits as they get older.
A game of tug-of-war is a super effective way to strengthen your dog's jaw without hurting them. If you have an older pooch, make sure you're gentle but still encourage some pulling so they can build muscle.
Playing games with your doggy is a really good way of strengthening your special bond – which is especially important if you've got a new pup in your family.
Customer reviews
Product reviews are filtered by language.
The following reviews are available in English.
Much loved

We got the black tyre for our labrador and he just loves it. He spends hours chewing the rope and fetching. We also sometimes hide treats in the tyre which he has to get out then. Great fun!

Gnaw and fetch

Our labbie loves the tyre! He fetches it for hours, then lays down and gnaws at the rope. The knot came loose, but could be tied again. Most favourite toy at the moment.