Skip to content
Skip to navigation menu
Kokoba Dog Clicker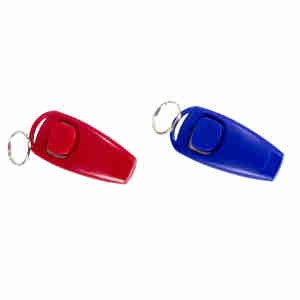 Rollover image to zoom
Product details
Train your dog easily and effectively with the Kokoba dog clicker.
How it works
Your dog can quickly learn both tricks and how to behave in the home with the use of positive reinforcement. This clicker helps to make this process easy and convenient – you simply click every time they complete a task, and reward them with a treat. This lets them know when they've been good, or performed a trick especially well.
The clicker also features a whistle which you can use for additional training. It's ideal for calling them when you're out for a walk, or even if they're up to mischief at the bottom of the garden. You can slip it onto a key-ring easily too, so it's always to hand.
Key benefits
fits on key-rings
comfortable design makes it easy to use
added whistle for additional training aid
ideal for training new pets and puppies
teaches positive reinforcement.
When to use it
The most effective way to teach a new pet or puppy is through positive reinforcement. You've probably heard of Pavlov's dogs – an experiment that proved dogs learn quickly through association of sound – and this clicker works in a similar way. Every time your dog behaves well, use the clicker to signal that you're pleased and immediately give them their reward. This will help them learn quickly, as all dogs love a treat. You can use this method to teach them tricks, too.
If you're interested in finding out more about how to train your dog, or if they seem to have behaviour problems even after training, then it's always a good idea to speak to your vet for advice.