Skip to content
Skip to navigation menu
You're setting up the following repeat order: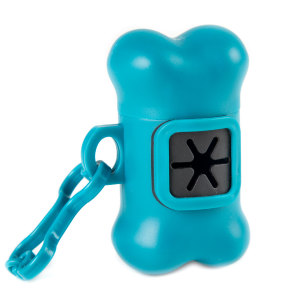 Kokoba Dog Poop Bag Dispenser
Product details
Use this plastic bag dispenser to easily carry your doggy pick-up bags when you're out walking your pet.
How it works
Take the plastic bag dispenser with you when you're out walking so you can quickly and easily clean up after your four-legged friend. Pull one of the leak-proof bags out from the dispenser and place it over your hand like a glove to pick up the waste. Tie up the sides and then dispose of the bag in one of the designated dog waste bins.
The dispenser is designed with a special clip which you can use to attach to your belt or your pooch's collar so you don't have to worry about carrying it.
Key benefits
dispenser can be refilled
can carry up to 40 bags at a time
lightweight plastic that can be comfortably clipped to your belt or your dog's collar or leash
strong plastic, leak-proof bags to hygienically pick up your dog's waste.
When to use it
The dispenser is your trusty companion when you're out for walks with your four-legged friend. Clipping it to your dog's leash or collar will ensure you don't forget it when you take your pet out for exercise.
Customer reviews
We're sorry but there are no reviews of this product in English.