Skip to content
Skip to navigation menu
Kokoba Finger Toothbrush Set for Dogs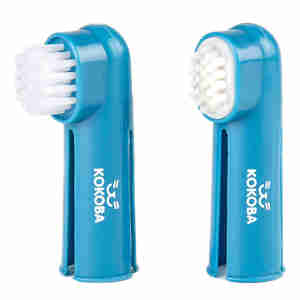 Rollover image to zoom
Product details
The Kokoba toothbrush set contains two specially designed pieces to help keep your pet's teeth and gums clean and healthy.

How it works
This toothbrush set is designed for ease of use. It features two brushes, each of which is used to clean different part of your dog's mouth. The first brush is made from polypropylene bristles that get rid of leftover food between your pet's teeth – this stops plaque and tartar from building up. The second brush is made from rubber and is designed to massage your pet's gums for better blood circulation in the mouth.
To use either of the brushes, place your index finger in the hole of the brush and rub their gums and teeth – remember to be very gentle with your movements.
It's important to pay close attention to your pet's dental hygiene. Poor dental health can lead to tartar and plaque buildups, which can lead to infections and complications. If you're concerned about your pet's teeth, take them to see the vet as soon as possible.

Key benefits
regular brushing helps prevent the buildup of plaque and tartar
two separate brushes designed to clean gums and teeth
easy-to-handle brushes operated by your fingers.
When to use it
Using the Kokoba toothbrush set as part of your pet's weekly dental hygiene routine helps to reduce plaque and tartar buildup and prevents further complications.
Looking after your pet's teeth is highly important – just like making sure they have daily walks. Bacteria from plaque and tartar can easily travel to your dog's kidneys and stomach, which can weaken their immune system, meaning they're more likely to get ill. Brush regularly to keep them healthy and happy.
Customer reviews
We're sorry but there are no reviews of this product in English.