Skip to content
Skip to navigation menu
Kokoba Lead for Dogs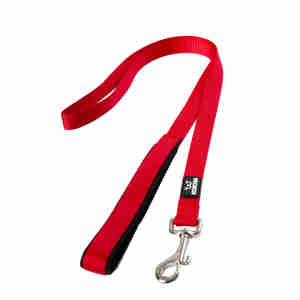 Rollover image to zoom
Product details
Made from durable nylon with a nickel snap hook, the Kokoba lead for dogs will keep your pet safely by your side.
How it works
This strong, nylon lead comes in three widths to match your dog's breed – from a bichon frise to a bullmastiff and everything in between. Plus, it's soft and comfortable for you to hold onto. The lead is 120 centimetres long – an ideal length for walking your dog to heel, while also giving enough slack to train. A sturdy nickel snap hook will keep them securely on-leash. Choose from red, black or blue to match your dog's collar and other accessories.
Key benefits
sturdy and flexible nylon lead keeps your dog by your side
soft and comfortable for you to hold
available in black, blue and red colours to match accessories
wash in soapy water if needed
choose from 15 millimetres, 20 millimetres and 25 millimetres widths to suit your dog's breed
easy to attach a collar or harness to the nickel snap hook
When to use it
Training your puppy or giving your older dog a refresher course? The Kokoba lead for dogs is just the right length to teach them to walk to heel. Once they've learned, you can keep on using this lead to walk your dog safely by your side in town or around other dogs.
Consider teaming this lead with a product such as the Kokoba dog harness. A strong and comfortable harness such as this lets you teach your dog not to pull ahead. After that, you can train them to walk at heel with a collar. After muddy walks, you can easily wash this lead with soap and water.