Skip to content
Skip to navigation menu
Kokoba Natural Clumping Cat Litter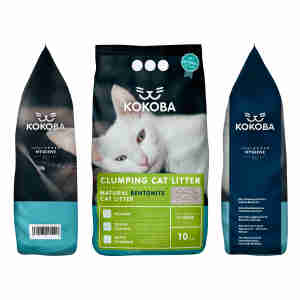 Rollover image to zoom
Product details
Kokoba clumping cat litter is 100% natural and makes cleaning your pet's litter tray really easy.
How it works
Cat owners are starting to use clumping cat litter more often because it's much easier to keep clean than the traditional stuff. It's made from an all-natural clay, white bentonite, which is safer and non-toxic. It doesn't produce much dust, either. It clumps really easily, so there's less chance of it getting stuck to your pet's paws and dragged around your home. As it comes together so easily, there's no need to empty the whole tray once a week. You just need to pick out lumps to get rid of urine. You can do this with a special fine mesh scoop, or by hand (with gloves on).
To use non-clumping litter, put about five to seven centimetres of it in the tray. Pick out any lumps every day so that it doesn't start to smell. Add a little extra once a week to keep it topped up, and wash the tray once a month. Wait until the tray is completely dry until putting the fresh litter in.
Key benefits
makes less dust
safe for cats and 100% natural
good for the environment
clumps quickly and lasts for a long time
keeps bad smells to a minimum
easier to clean than normal litter: just remove the clumps
tray stays dry
made from fine white bentonite.
When to use it
Non clumping litter should be used in place of regular cat litter. Cats can be upset by change, so make sure you switch slowly. If you don't, your furry friend might be put off using their litter tray when they arrive and see that things are different. Introduce it over the course of five days, adding a little bit to the normal cat litter until it's all completely replaced.
Customer reviews
Product reviews are filtered by language.
The following reviews are available in English.
Kokoba Natural Clumping Cat Litter

Worst litter we have ever used!!! Pieces of white litter are carried in paws and deposited all around the house! Terrible product. Best Litter on market is "Pettex Clean Paws Super Clumping Cat Litter".

Good litter

It does like most cat litter track round the house but still very good. Have also started to use it in me rabbit litter trays as well

Value for money

Finally found an affordable clumping litter that actually works: no smell, very little mess in comparison to other products and clumps very good!

My cats preferred cat litter

Have tried a variety of different types of litter and this is the one my cats seem to prefer. I also find it easier and more economical as it is easy to remove the soiling for disposal and not waste clean litter. Odour absorption is good too. It also seems to spread less making it easier to maintain a clean surrounding area. My only problem is with the weight of the bags when new which makes it difficult to pick up and pour. I would be good if there could be a pouring spout to help with this.

excellent

excellent product no smell, like some litter