Skip to content
Skip to navigation menu
Kokoba Outdoor Wooden Dog Kennel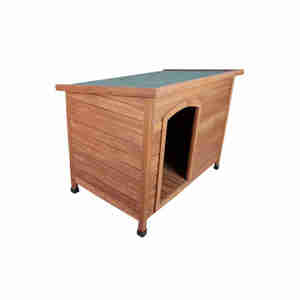 Product details
Give your pet a room of their own with the Kokoba outdoor wooden dog kennel, perfect for dogs who love spending time in the garden.
What it's for
The Kokoba outdoor wooden dog kennel gives your pet the perfect place to hide away and relax while they're outside. It's a cool, shady spot to laze in during the summer, and in winter it's a snug den protected from the chilly air. The design also protects your dog against rain showers, perfect if they're caught by surprise during an afternoon in the garden.
You can make this cute little hut even better by adding a dog bed and blanket for them to snuggle into – you might even convince them that sleeping outside is better! When choosing a size, think about how big your dog is. The perfect kennel will be small enough that they can warm it up with their body heat, but big enough for them to walk inside and turn around in comfortably.
Key benefits
slanted roof helps rain flow off during showers
offers a shady space in sunny gardens
made from hard-wearing wood with an asphalt roof
feet have rubber caps so wood doesn't soak up ground moisture
small - H58 x W85 x D57 cm, medium - H66 x W104 x D70 cm, large - H80 x W112 x D72 cm
measurements are from the longest points of the kennel. Refer to size guide for more information.
How it works
Made from sturdy wood and tough asphalt, this dog house offers an all-season space for your pet to relax in. The high-quality wood will last longer if you treat it with wood care products. Choose a product that's pet friendly, as you don't want to risk your dog getting sick from breathing in the fumes.
Size Guide