Skip to content
Skip to navigation menu
Kokoba Perfume for Dogs & Cats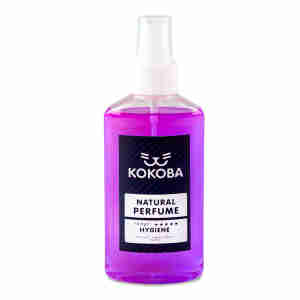 Rollover image to zoom
Product details
You can freshen up your pet's smell when they're between baths with Kokoba perfume for dogs and cats.
How it works
If it's not quite bathtime for your pet, or if they're between visits to the groomer's, you can reduce their natural odour by giving them a spritz of this perfume. It freshens them up without damaging their coat. The formula is alcohol free and non-drying, and is pH balanced to be kind on skin. The design is a pump rather than an aerosol, so it won't scare off nervous pets. Plus, the smell's subtle so it won't turn your buddy into a four-legged air-freshener, and the anti-bacterial formula kills whiff-causing germs.
Key benefits
125 millilitre bottle
all-natural formula
neutralises bad smells
light and pleasant fragrance
formula is alcohol-free
pH balanced: gentle on your pet's hair and skin.
When to use it
If your pet is getting a bit pongy but isn't due a bath, a spray of this perfume will freshen them up. It's perfect if you have guests popping round for dinner, or if your buddy's smell is starting to overpower your home. Shake the bottle well before using, then hold it about 15-20 centimetres from your pet. Try not to aim it towards their face, but if anything does accidentally get into their eyes, rinse well with cold water. This perfume is a natural deodoriser, so a spritz after a bath will keep them smelling fresher for longer.
It's perfectly natural for cats and dogs to smell a little bit, but if they're more smelly than usual it could be a sign that they have a health problem. Food allergies can lead to smelly coats, as bacteria can sneak under your furry friend's skin if they've been scratching a lot. If you notice them scratching more than usual, if they have patches of inflamed skin, or if they're a bit restless, it's worth speaking to a vet.
Ingredients
Water, glycols, fragance, excipients
Customer reviews
We're sorry but there are no reviews of this product in English.