Skip to content
Skip to navigation menu
Kokoba Pet Car Trunk Cover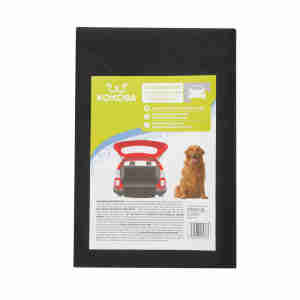 Rollover image to zoom
Product details
This Kokoba pet car trunk cover is an easy, fuss-free way to travel with your pets while keeping your boot lining free of claw marks, loose hairs and muddy paw prints.
How it works
The two-piece cover spreads across the whole boot and can be folded out to protect the rear bumper, preventing any muddy paw prints as your dog bounces in and out of the car. Quick-release buckles make the cover easy to remove for cleaning, and the adjustable straps ensure a good fit in most modern car boots.
The anti-scratch nylon keeps it looking smart, while the water-repellent coating stops any damp from seeping through to your boot upholstery. It's great for protecting your car interior on days at the beach, quick trips to the vet or even while transporting bulky cargo items.
Key features
water-repellent coating protects your car's upholstery
protects boot floor, sides and bumper
scratch-resistant nylon for a smarter look
adjustable straps to fit most standard cars
quick-release buckles for easy fit and removal
dimensions: 120.5 (height, top to bottom) x 159.5 (width) cm
When to use it
All dogs travel differently: some may just sleep and leave a few prints and hairs behind, while others may scratch or chew at upholstery. Whether your pet travels in a crate or a harness, the use of a Kokoba trunk cover is an ideal solution, whatever their age.
Simply insert the cover into your car boot before your pet's next adventure. Alternatively, if your dog travels with you daily, this cover can be left in the car and removed occasionally for cleaning.
Always allow your dog frequent breaks during long journeys, and never leave animals unattended in any vehicle.
Dimensions:
Cover - 120.5 (h) x 159.5 (w) cm (without bumper attachment)
Bumper attachment – 74 (w) x 51 (h) cm
Customer reviews
We're sorry but there are no reviews of this product in English.