Skip to content
Skip to navigation menu
Kokoba Pet Slicker Grooming Brush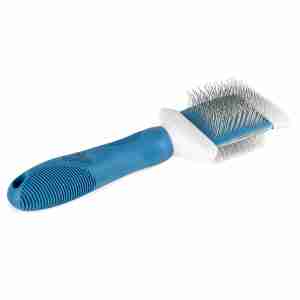 Rollover image to zoom
Product details
Keep your pet's fur glossy and knot-free with the Kokoba Double Side Slicker Brush.
How it works
The Kokoba Double Side Slicker Brush is perfect for keeping your cat or dog's fur in top condition. The metal prongs are rounded so they won't catch your pet's skin while you groom.
This two-sided brush is comfortable to use thanks to a grip handle. This grip helps you keep a steady hold – even if your pet is prone to wriggling. A flexible head makes it easy to get to difficult spots like underneath the stomach and prevents you from adding too much pressure.
After use, remove traces of dead fur and soak in hot water regularly to kill off any bacteria.
Key benefits
simple to keep clean
two sizes: large (222x80x38 millimetres) and small (159x69x40 millimetres)
flexible and reaches difficult spots
comfortable grip handle.
How it works
This brush is available in two sizes, so it's perfect for all breeds of dog. The large brush (222x80x38) is ideal for bigger dogs like alsatians and mastiffs, while the small (159x69x40) is suitable for cats and breeds of dog such as pugs and French bulldogs.
Grooming your pet regularly is very important. Cats and dogs with longer coats will need a little extra time and care to stop their hair becoming knotted and tangled with dirt, which can be uncomfortable. Pay attention to spots under the stomach, arms and tail that get matted easily.