Skip to content
Skip to navigation menu
Kokoba Pet Water Fountain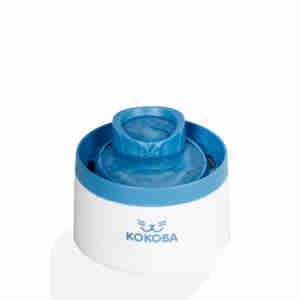 Rollover image to zoom
Product details
Keep your cat hydrated and healthy with this Kokoba water fountain, which provides a clean, reliable source of water.
How it works
This fountain has been designed to help and encourage your cat to drink water. The trickling effect of the fountain makes the water more attractive to your pet, so they're more likely to drink from it. The water itself is also filtered and oxygenated, which makes it taste great and deliver lots of refreshment.
Because the fountain only uses a small amount of electricity, it can keep running indefinitely so there's always a clean source of water for your cat to enjoy. The fountain is also recommended by vets, as it means cats are at lower risk of kidney and urinary infections which they could pick up from outside water sources.
Key benefits
easy to replace carbon filters
encourages your cat to drink more often
refreshing, oxygenated water
reduces the risk of kidney and urinary problems
low-voltage power use
recommended by vets
continuous, clean water flow
When to use it
It can be hard to know if your cat is drinking enough water on a day-to-day basis, but simply keeping an eye on them can give you an idea. Many cats drink after eating, and they may also find the tap more appealing than their bowl. They might also drink from outdoor water sources, which isn't ideal as they could contain diseases or bacteria.
This fountain makes drinking easier for your cat, as the fountain not only catches their attention, but provides clean, refreshing water they'll want to come back to. Having enough water helps to protect their overall health, and can keep their kidneys in good condition.
Click here
to find out more about how we help to provide recycling facilities for electrical equipment.
Customer reviews
Product reviews are filtered by language.
The following reviews are available in English.
great

I love this, seeing my kittens getting constantly fresh running water. Its almost silent too. A wee bit disappointed to see someone saying they paid only £7.50 for theirs. I thought mine was a good price at £12 ! If it goes down in price again I would by more for family and friends.

Quick, easy and safe.

This water fountain is keeping my three pets happy and I do not need to worry about spillages. However, I find it difficult to lift it off the ground to replace the water. It means turning off the power, uncoupling the cable and lifting a water filled container with flex and plug attached. This is not as difficult as the return journey with a full bowl of water. It would have been a tremendous help to have some sort of carrying handle, or cuts in the base by which to lift and carry it.

Fantastic product

I bought of these at the special price of £7.50 each last week. I'm wishing I'd bought more as they are fantastic. Dogs love them cats love them I have a cattery and will be watching out for future discounts to buy another to be used in arteries. Nice and stable shape not conducive to being knocked over, quiet to run and even with 2 gr8 Danes l just needs cleaning and filling twice daily as they ha their own water fountain outdoors too operated by solar power which is fantastic. But cannot recommend the kokobo 1 enough even at its new price of £11. +

Excellent for the price

Received this item this morning. It's larger than expected and great value for money. I've got 3 cats and up to yet ,although they've been curious about it,they haven't drank from it. I'm sure it won't take them long to get used to it. It takes a large volume of water and it's very quiet when it's running. Very happy indeed.

Brilliant Product! Highly Recommend

Received the product much quicker than expected which was great! Put together easily and fantastic for my 3 cats. Only received today and they are very curious but not used yet. I'm sure it won't be long before they do