Skip to content
Skip to navigation menu
Kokoba Plastic Dog Flap For Kennel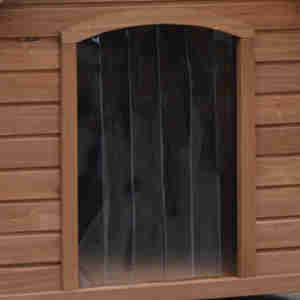 The Kokoba plastic dog flap clips onto your dog's kennel, keeping them protected from the elements during the cooler months.

What it's for
This door can be clipped onto your Kokoba dog house or kennel, keeping your pet warm during cold weather. It insulates and helps to stop rain from getting in during showers, keeping your dog (and their blankets) nice and dry. They're available in a range of sizes designed to fit the Kokoba flat roof kennel and the Kokoba pitched kennel, so double-check your dog house type and measurements before choosing your door.

Key benefits
simple and flexible design
produced using hard-wearing PVC
quick to install
wipe-clean surface is easy to maintain
insulates dog house and keeps rain out
3 options for pitched kennels: small (39x28 centimetres), medium (41x34 centimetres) and large (51x37 centimetres)
3 options for flat roof kennels: small (36x38 centimetres), medium (42x34 centimetres) and large (60x37 centimetres)
How it works
Simple, durable and functional, this PVC flap makes the perfect doorway for your pet. It's really easy to install, so they'll have a more secure entrance on their second home in barely any time at all. The design makes it easy for them to get in and out of their kennel, but makes it hard for wind and rain to blow in once they're settled. The PVC plastic helps to keep the structure insulated for extra warmth on chilly nights. The material is hard-wearing and durable, so it can stand up to the most excited dogs. It's also easy to clean: simply wipe it down with a cloth when you notice it getting dirty, and Bob's your uncle.