Skip to content
Skip to navigation menu
Kokoba Transport Crate Fly Kit - IATA Approved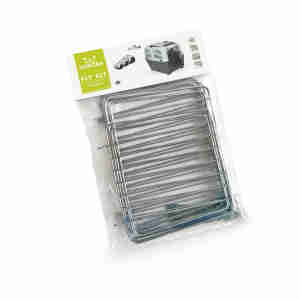 Rollover image to zoom
Product details
The Kokoba transport crate fly kit helps to make the Kokoba transport crate compliant with stricter regulations applied by some airlines to live animal carriage.
How it works
The Kokoba crate is already compliant with the International Air Transport Association (IATA) regulations, but some airlines have stricter guidelines when it comes to transporting pets. These three metal grids add the extra level of safety that they require. Before taking your pet to the airport, read through the airline's terms and conditions carefully. If you're planning to make your pet a frequent flyer, having the fly kit on hand means you'll always be prepared for different regulations.
Key benefits
set includes three metal grids
approved by the IATA
compatible with the Kokoba Transport Crate
grids are designed to fit additional guidelines for the carriage of live animals as required by some airlines.
When to use it
If you're heading abroad with your pet, your airline might ask you to pop these grids onto your IATA approved travel crate. Check that they're fitted properly before saying cheerio to your four-legged travel companion. Remember that animals can get stressed when they travel, and if they've never been on an aeroplane before it can add an extra level of anxiety. Make sure you're happy with how your pet will be travelling before you book your flight. Some airlines allow pets in the cabin, while others insist they stay in the hold.
Make flying easier by booking a non-stop or direct flight if possible, and choosing early morning and late evening flights. The hold temperature is often much more comfortable at these times of day. If your pet is really nervous you might decide to sedate them. Speak to your vet about it first, and check with the airline as they might need additional information regarding the medication.