Skip to content
Skip to navigation menu
Kokoba White Coat Shampoo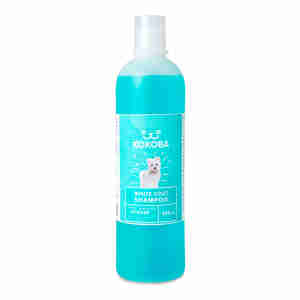 Rollover image to zoom
Product details
Kokoba white coat shampoo brightens and whitens your pet's hair while nourishing skin and hair.
How it works
Kokoba White Coat Shampoo helps to keep white coats brighter so your four-legged-friend always looks their best. Using a bleach-free whitening action, the gentle formula removes yellow tones and makes hair look lighter. Although it's quite powerful, the formula is kind to your pet's skin, and is pH balanced to help avoid irritation. It's environmentally friendly, with lots of natural ingredients. One of them is provitamin-E, which can help promote skin and hair health. It also includes centaurea (cornflower), which is anti-bacterial as well as antioxidant. It kills most bacteria hiding in your pet's coat, and acts as a deodoriser to keep them smelling fresh.
Key benefits
500 millilitre bottle
formula is suitable for dogs and cats
removes yellow tones to brighten white coats
strong yet gentle whitening action keeps hair looking pristine
professional groomers use it
90% biodegradable formula
gentle on skin and pH balanced
antioxidants help boost overall skin and hair health
contains anti-bacterial ingredients which deodorise your pet and keep them smelling clean.
When to use it
This shampoo is made especially for white-haired cats and dogs such as West Highland terriers, bichon frises and Persian cats. The formula is bleach-free, so it can be used to brighten your piebald pet's white spots. Just use it in place of your pet's regular shampoo. Put them in the bath and wet their coat with warm water. Massage this shampoo in gently, then rinse it off. Repeat, and on the second round leave the shampoo for five minutes before rinsing fully.
Ingredients
Water, surfactants, conditioner, lanolin derivative, provitamin E, centaurea extract, silicone quaternium 22, preservative, colouring, fragrance.
Customer reviews
We're sorry but there are no reviews of this product in English.