Skip to content
Skip to navigation menu
Kong Dr Noys Dog Toys Teddy Bear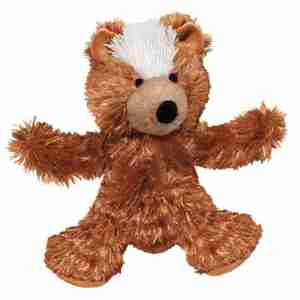 Rollover image to zoom
Treat your pet to a new best friend with the Kong Dr Noys teddy bear dog toy.
How it works
This squeaking toy will be your pet's new favourite in no time. Crafted from a soft, plush material, Kong Dr Noys teddy bear is snuggly on the outside, with a reinforced, chew-proof body that stands up to daily games of tug of war. A knotted skeleton gives your dog texture to gnaw at too. This teddy contains minimal stuffing, so it won't leave a trail of fluff through the house.
With an easy-to-replace squeaker and durable construction, this toy will go the distance. You can even pop it in this wash after it's been loved long enough.
Key benefits
durable plush toy with knotted rope inner
removable squeaker for easy washing
medium size for dogs of all ages
replacement squeaker included
measures 18x14x8 centimetres
When to use it
New puppies benefit from a comfort toy: it's something to bond with and sleep next to after they've left their mother. Toys that encourage self-amusement are important too, as this encourages young dogs to become more independent and entertain themselves when left alone. The Kong Dr Noys teddy bear is ideal for cuddling, playing fetch and chewing – helping teach your young pet valuable lessons. This teddy bear is also a great companion for anxious dogs. Once your pooch has got used to it, pop it in their bed to keep them company and soothe any restlessness. This works especially well if the toy smells like you, so consider wrapping it in an old jumper for familiarity.
If you're concerned about your dog's nervous behaviour (this might include whining, scratching and frequent urination) speak to your vet for some treatment options.
Customer reviews
Product reviews are filtered by language.
The following reviews are available in English.
Good product

Rufus our 7 month pup loves his toy !! It's a bit on the small size but strong. He loves the squeaky inside, washed in machine & all fine. Happy with product

I got the medium sized bear for my 9 month old Labrador puppy. Within 10 minutes this toy was ripped to shreds with the stuffing (which they claim not to use) was all over the floor! I know they say it is not indestructible but 10 minutes of play is not really worth the £4.50 spent im afraid! Will not be buying one of these again!

A great toy which my JR loves to pieces! After she realised there was no stuffing it deterred her from trying to shred it. She hasn't (yet!)even mananged to get the squeaker out which is usually a 5 minute job! Very pleased with the product!

There is a velcro opening which stores the catnip pouch which is unfortunately the weak spot which my 6 month old puppy was able to rip apart in 10 minutes. From there, the toy is easily ripped into bits and the catnip pouch removed.

My labradoodle loves soft toys, but these are by far her favourite. What makes them great that is unlike other soft toys that I have bought, some falling apart in the first few minutes, these have stayed in one piece and I have not even needed to use the spare squeaker that comes with them. I have had the frog now 18 months since she was a puppy and it`s still in one piece and a favourite. I bought the bear recently and it is also doing well and is low stuffing. Most of my other soft toys are in a bag waiti