Skip to content
Skip to navigation menu
L-Lysine Cat Chews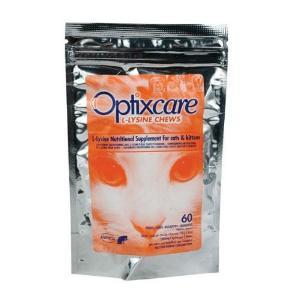 Product details
Optixcare L-Lysine is a nutritional supplement that helps manage feline herpes virus in cats and kittens. Each tasty soft chew contains 500mg L-Lysine. L-Lysine decreases a cat's risk of contracting the herpes (Rhinotracheitis) and slows the growth of the infection. Key Benefits: 500 mg of L-Lysine per chew means fewer supplementation times Bite-Size Chews - easy to give as a treat or crumble on food Tasty Poultry & Pork Flavor - good palatability Resealable Foil Bag maintains freshness
Customer reviews
Product reviews are filtered by language.
The following reviews are available in English.
Extra health care

I have two siamese and give these as a suplement one had a sticky eye and it cleared up,I bought these on recommendation and continue to give them. L-lysine works wonders.

Dylan my cat takes L-lysine twice a day

Dylan suffered flu at 8 weeks and suffered with infections in one eye for years - the vet after trying everything he could think of as a last resort asked me to buy L-Lysine on line as much cheaper than through the practice. After only one week he seemed much better and after taking them for 12 months only has the sneezing but no infection as yet.

Three very old cats

I have three old Sphynx cats 18,17and 15. These chews make them brighter, one had a watery eye which has dried up nicely. One has had a skin problem most of her life and her skin is much better. I would recommend these chews to boost immunity.

I was taking my cat to the vet almost every other week. Skin problems, Eye infections. She was prescribed oral drops which she HATED causing more stress causing more skin irritations and eye infections. I was advised a roughly £500 test to see what it could be but after research online to see what could be causing this in her breed I saw that owners were raving about L-lysine over and over. Since starting her on one of the chews a day I havent once had to take her to the Vet!It's amazing!!She's healthy now!

I was recommend these by a vet assistant when my little kitten got cat flu when he was only 8 weeks old. The vet didnt want to stuff his body with drugs. His eyes was infected, sneezing and snotty. After giving him one of these a day for two days, he perked up in spirit and then helped him recover in 5 days over all. These boost the immune system and keep eyes bright. He is now 9 months old and still loves them. We give him one a day as stated. Its a great way to help them recover.