Skip to content
Skip to navigation menu
You have setup the following Repeat Order: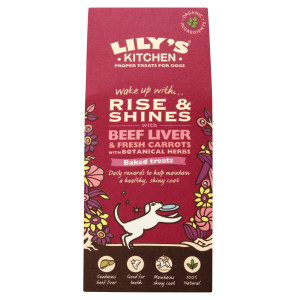 Lily's Kitchen Rise and Shines Baked Dog Treats - Beef Liver
Lily's Kitchen Rise and Shines Baked Dog Treats - Beef Liver
Product details
If you're training your dog, Lily's Kitchen Rise and Shine biscuits are the perfect reward for when they do well.
How it works
These crunchy baked treats are tasty and packed full of goodness. Your dog will love the crunchy texture that comes from the baking process. Flavoured with beef liver, they have an aroma your pet won't be able to resist.
The high-quality beef also gives your pet a big boost of protein, which is essential for building lean muscle mass and providing lots of energy for daily play.
Liver also contains vitamin A and iron, which help to support your dog's immune system and keep their blood healthy. Botanical herbs like blackstrap molasses, alfalfa and turmeric have all been added to further aid your pet's digestion, keep their bones and teeth strong and support their immune system.
Key benefits
100% natural
completely balanced
baked, crunchy texture
great for keeping teeth healthy
quality protein comes from beef liver
amino acids nourish skin and coat
rich in natural vitamins, minerals and antioxidants
helpful as a training aid
When to use it
These biscuits aren't just great for your dog's health, they're also the perfect training aid if you're trying to get them used to your home. You can use Rise and Shine biscuits as a special treat when your dog does as they're told during training.
Lily's Kitchen recommends feeding your dog no more than 2 biscuits per day to avoid them putting on weight. These treats should be enjoyed as part of a balanced, healthy diet – be aware of how many calories your pet is getting. If you have any concerns, speak to your vet.
Ingredients
Organic Light Rye Flour, Organic Oat Flour, Organic Oats, Liver (10%), Organic Sunflower Oil, Nutritional Yeast, Organic Blackstrap Molasses, Organic Carrots (4%), Organic Sunflower Seeds, Organic Alfalfa (1%), Organic Nettles (1%), Organic Rosehips (1%), Organic Turmeric (0.5%).
Feeding Guide
Two biscuits a day, make sure you keep an eye on your dog's overall calorie intake.