Skip to content
Skip to navigation menu
Lily's Kitchen Slow Cooked Lamb Hotpot for Dogs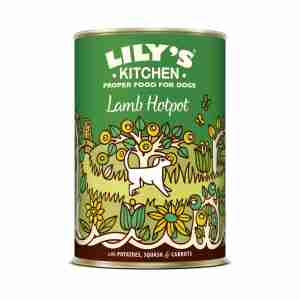 Rollover image to zoom
Product details
Lily's Kitchen slow cooked lamb hotpot for dogs is a tasty, nutritionally-balanced wet food. Every tin contains succulent lamb, broccoli, organic squash and blueberries.
How it works
This wet food is made with freshly prepared lamb – a tasty, high-quality protein that helps strengthen your dog's muscles, bones and teeth. Broccoli, blueberries, organic squash and peas bring added nutrition. The healthy carbohydrates in squash offer energy, broccoli is rich in vitamin C to build up natural defences and protein-packed peas help ease digestion. The recipe also contains botanical herbs such as burdock root. This tasty ingredient helps flush impurities and toxins from blood.
Key benefits
60% lamb and only real cuts
nutritionally balanced
no wheat, soya or corn
organic squash and brown rice for energy
botanical herbs with essential minerals and vitamins
free from artificial flavours, colours, preservatives and sweeteners
suitable for dogs aged four months and above
When to use it
If natural ingredients are important to you and your pet, Lily's Kitchen slow-cooked lamb hotpot is made with only real meat and healthy produce. There are no animal derivatives, genetically-modified ingredients, artificial flavours, colours, preservatives or sweeteners. If you choose to switch dog food brands, mix the old with new – gradually increasing the amount to help avoid stomach upsets. Small breeds such as Jack Russells will eat around half a tin a day, Border collie-sized pets two tins and larger dogs like German shepherds up to three. If you're unsure, ask your vet for feeding advice. You can give dogs aged four months and older this food. Always make fresh drinking water available for your pal, and not just at mealtimes.
Ingredients
60% Freshly Prepared Lamb, Organic Squash, Organic Apple, Organic Brown Rice, Organic Carrots, Blueberries, Organic Pearl Barley, Organic Broccoli, Organic Peas, Vitamins & Minerals, Flaxseed (Source of Omega 3 & 6). Botanical Herbs: Golden Rod, Nettle, Aniseed, Rosehips, Marigold Petals, Cleavers, Kelp, Alfalfa, Milk Thistle, Dandelion Root, Burdock Root, Celery Seeds.
Feeding Guide
Dog
Dry Only
Wet + Dry
Wet Only
Wet Only
Weight (kg)
Grams / day
Grams / day
Trays / day
Tins / day
Extra Small Dog
30 to 100
For every 100g of Wet reduce Dry by 30g
0.5 to 2
0.25 to 0.5
Small Dog
100 to 220
2 to 3
0.5 to 2
Medium Dog
220 to 330
3 to 4
2 to 3
Large Dog
330 to 420
4 to 8
3 to 4
Customer reviews
Product reviews are filtered by language.
The following reviews are available in English.
This is an excellent quality dog food that is really worth the extra money. When opened it smells great and you can see it contains real meat and vegetables. My little old dachshund loves it and has been given a new lease of life! It has really cheered him up. I now tell him he eats better than I do!

My 5yr old West Highland dog " Westley" loved all, so you have a convert.

Our two pugs absolutely love this dog food.They are fussy eaters but not anymore.I have tried a few other foods but they where not that keen until I tried Lilys Kitchen .They enjoy the variety and with no additives only natural produce it's a great product.

we have 3 terriers, a Patterdale, a Patt X Jack and a Jack Russel, and they love Lilys kitchen tinned food and holistic whole bake meal...they run in from the garden at the shout of " DINNER " and clean the bowls, tails wagging...they then swap bowls to see if anyone else has left anything!!!!!!! great food at last....Nothing unneccesary added all good fresh ingredients, and I love the addition of the fruits and herbs..we have a very happy very healthy trio of Terriers!!!!! thanks guys.

This product is great my dogs love it..Why do you say 6 cans from 10.99 when your cheapest is 12.99..