Skip to content
Skip to navigation menu
Mark & Chappell Defurr-Um Paste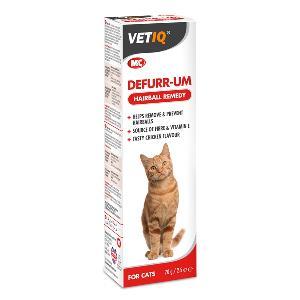 Product details

Furballs can be prevented by frequent grooming and the routine administering of Defurr-Um Plus Paste.

Highly effective in preventing the formation of hairballs in cats and kittens over 6 months in age, it is a high energy source containing Vitamin E.

Defurr-UM paste lubricates the digestive tract helping to expel potential blockages.

Defurr-UM paste is highly palatable and is easily administered either placing it directly onto your cats paws or letting them lick it from your finger.

Ingredients:
Malt Syrup/Petrolatum - Combination of natural ingredients that gently lubricate the system giving a mild laxative effect that removes the furball and reduces the likelihood of future blockages.
Vitamin E - Natural antioxidant that protects against free radical damage.


Customer reviews
Product reviews are filtered by language.
The following reviews are available in English.
Highly recommended

I have a long haired cat who suffered with fur balls. My vet recommend using this weekly and it has solved the problem. My cat is a fussy eater but I have no problem getting him to take this paste.

I currently have 3 long haired cats and they all love having Defurr-um paste in the morning! I do think it helps with the fur ball situation. I would recommend you trying it - especially if you have to give a tricky pill, coat it in defurr-um, gone in a flash!