Skip to content
Skip to navigation menu
Millpledge KalmAid Liquid Anxious Pet Remedy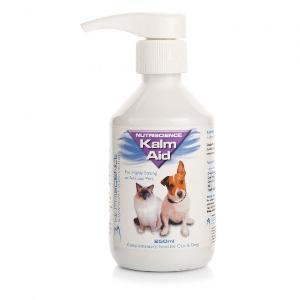 Product details
KalmAid promotes a sense of calm in dogs and cats showing signs of fear (eg. Due to lightning, thunder, fireworks etc.), anxiety (eg. Due to separation from owner or new environment) or travelling. Also helps with unwanted or unruly behaviour (chewing furniture for instance). Suitable to give to pets before grooming.
Customer reviews
Product reviews are filtered by language.
The following reviews are available in English.
Kalm aid

This item is very good it has made life much easier for my precious cat

Definitely helps

My dog suffers from separation anxiety & this definitely helps her to relax when I go out.

Kalm aid for dogs

Great product to help calm nervous dogs, easily added to food. Just let down by every time the squeeze bottle fails to work after a few doses and iritating to open the entire bottle and to guess how much to use!!

Excellent, worked like a charm.

The flat above mine was doing Renovation work and noise was unbearable. My 2 Cats were so frightened that i came looking for something to help and found this wonderful product! They were a bit fussy about liquid at 1st so i put a bit more wet food out and did eat their dinner. About 20 mins later they were both sitting calmly watching me doing chores (with noise from above) then they went off to sleep. The work continued for 5 weeks and in the the Cats were fine but i was a wreck! Oh, it worked on Bonfire Night too! Also have a problem with the bigger Cat dominating my smaller cat. It can be a really big problem when he gets so amorous that he chases the little one around the flat and grabs him by the neck sometimes causing injury so now i give him the KalmAid and he appears to forget about his brother! He becomes 'Calm'.

This is a good product, calms my little Yankie spaniel when I take her to be groomed, also worked well on bonfire night with all the fireworks